06/07/2020 - By MJV Team
3 min read
Nearshore Outsourcing: what is it, how does it work and what are its advantages?
In the blink of an eye, the world has turned remote. Digital Transformation and technology came with overwhelming force and took center stage in corporate strategies. The goal? Simple: adaptation to the new reality.
---
Zygmunt Bauman calls this transition that we live in times of interregnum. We are between what is no longer is and what is not yet. The old model no longer serves us, and the new one is not ready.
But do not worry! We believe that many things will change for the better within this scenario of chaos and collapse. It requires discipline and resilience to endure these transitions while we fully adapt.
We know that building this new normal is a huge challenge. It may not be easy, but it is possible. We at MJV have been investing in thinking about how we can learn and make these transformations together.
One of the solutions we see in this scenario is nearshore outsourcing, where collaboration is essential.


Struggling to find the right talent for your project? Download our ebook and learn how to escape the talent shortage in IT.
What is the Nearshore Strategy?
The Nearshore strategy is nothing more than hiring a remote team that is geographically close to your company, which guarantees several corporate benefits, including cost reduction, logistics, and cultural proximity. The primary motivation is to scale processes, take projects out of the drawer, and increase profit.
In times of pandemic and social isolation, maintaining productivity is essential in a safe, effective, and intelligent manner.
The nearshore strategy is one of the easiest ways to expand your team remotely, achieve scalability, and stay competitive. Using nearshore can be the game-changer for your business.
How does a Nearshore Strategy work?
The way to make nearshore strategy work is communication. The exchange between the team and the manager is of paramount importance in any project. Communication that is aligned, transparent, and guaranteed everyone's visibility is the critical element for success.
The practice of nearshore also needs to align with the company's business objectives. To achieve alignment, you need cultural proximity, proficiency in the language, and a thorough understanding of the market. Ideally, the corporation should choose its nearshore partner while taking into account all these requirements.
At MJV, we provide nearshore talent with technical agile skills and a deep understanding of user-centered design practices. We are well-versed in several collaboration models, including high-impact quality teams at affordable costs.
What are the advantages of a Nearshore Strategy?
Cultural proximity ensures transparent communication and complete visibility of the project.
Working hours, daily meetings, or short-term trips are not a problem!
Knowing the market and passing this knowledge onto the team makes all the difference when designing and executing strategies.
Geographic proximity creates a much smaller impact in terms of corporate travel and facilitates communication.
Cultural and linguistic similarity or proximity
Similarities in language help you understand your client's macro and micro scenarios.
Our competitive advantage: the MJV way
Choosing a nearshore outsourcing strategy is simple, but having the right partner is crucial. Technology and expertise are essential to successful projects.
Once you select the right partner, you need to dive deep and understand the changes that your company will have to make to operate in this new model. Identify which technologies will enhance your processes, strengthen, or create a new culture in your business.
We brought along a few features of our collaboration model to understand the differences in this approach.
Dedicated team
A dedicated team is an independent cell with distinct functions throughout the development process.
Digital Design Thinking
By bringing along a mentality aligned with the growing uncertainties in place, the approach delivers an excellent result in a short time frame, focusing on the individual while providing short-term execution.
Agile Methodologies
To develop more strategic projects and streamline processes, we use the Agile mindset to manage remote teams. This ability to adapt the methodology makes implementation ideal in uncertain scenarios.
Workspace and infrastructure
We align these to your business goals so that you only need to worry about your business goals.
Time savings
It avoids the long process of interviewing and hiring people and reduces your projects' time-to-market.
Specialized support
We have specialists who can help you with all your project needs.
Scale your team as needed
Additional hands at work are available on short notice.
Technology services
Software Development (Web & Mobile Apps), Data Science, DevOps, BI & Big Data, Security, and Vulnerabilities. We have a broad base of talented employees with extensive experience in the most relevant technologies for each market.
The challenge of the present is to build the future.
Moments of transition are sometimes seen as crises because it is uncomfortable to be vulnerable in the face of the unknown, thus losing their innovative potential.
Here at MJV, we build the post-normal using the strategies just discussed. To achieve your business objectives, you need to consider which actions you will take to pave the way. Take the first step today, and make outsourcing part of your new normal.
Get in touch with our experts to explore how to face your corporation's challenges.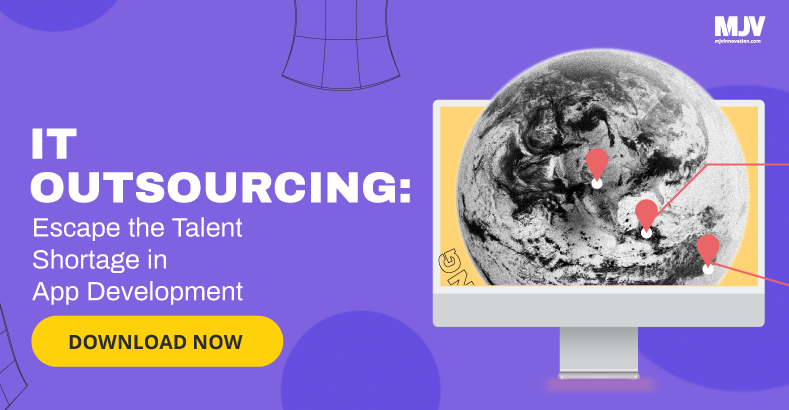 Back