12/06/2020 - By MJV Team
6 min read
IT Outsourcing: what is it and what are the main benefits for your company?
Outsourcing of IT operations and development has been a hot topic for years. Common advantages of IT outsourcing include scalability, more robust disaster recovery, easier access to subject matter experts, lower costs and being able to focus resources on core business development.
---
However, outsourcing also introduces a more complex delivery model, security and privacy concerns, less visibility, reduced control of the overall IT infrastructure, and makes it more difficult to map IT deliverables to a company's business needs.
This article aims to present the main concepts, advantages and challenges of adopting IT Outsourcing and how MJV can help your company achieve its strategic objectives in times of global crisis.
What is IT Outsourcing?
According to Gartner, IT outsourcing is the use of external service providers to effectively deliver IT-enabled business process, application service and infrastructure solutions for business outcomes.
Outsourcing, which also includes utility services, software as a service and cloud-enabled outsourcing, helps clients to develop the right sourcing strategies and vision, select the right IT service providers, structure the best possible contracts, and govern deals for sustainable win-win relationships with external providers.
Outsourcing can enable enterprises to reduce costs, accelerate time to market, and take advantage of external expertise, assets and/or intellectual property.
IT Outsourcing in the current global context
Remote working is increasing as a means of practising social distancing during the COVID-19 pandemic. Led by business in response to calls from the World Health Organization, it is having a daily impact in helping manage the novel coronavirus.
European companies are facing the challenges of staff working from home. They are also dealing with processes they wished they had automated before most of their employees had to work from home. These circumstances will be the deciding factor for many European companies to open up towards digitisation and automation of their work processes. This will lower the threshold for outsourcing in the future. So, in the long run, European companies may be more likely to outsource their IT or business processes to other countries.
There is a lot of understanding among companies from all around the world. This is a crisis that affects us all. When deadlines are not met, and schedules have to be changed, most companies will understand and be flexible. Our best advice is: keep communicating with your outsourcing partners. Be transparent about the status of the project and how you will try to deliver. Make sure your clients see that you are doing the best you can, and stay strong.
Types of IT Outsourcing
There are multiple types of IT outsourcing, defined by where and how the outsourced work happens. These include:
Project based outsourcing
Also known as Software Development Outsourcing, Nearshoring, Offshoring, etc. In this case company provides all project related information to the external outsourcing provider and this provider does all the software development, quality assurance and project management.
Out Staffing
Also known as Body Leasing. In case of outstaffing model company buys time of employees from IT outsourcing provider. Usually company pays hourly or monthly based rates.
Opening of R&D Center
Also known as Offshore Office. Some companies open a Research and Development Office in another country (usually under the same brand name) and hire local people to work for the company in the office.
Benefits of IT Outsourcing
There are countless reasons why companies outsource specific business activities. And some of the most common reasons include:
Enhancing company's focus
Access to world-class capabilities
Controlling and decreasing the operational costs
Increasing efficiency for time-consuming functions
Distributing risks with the partner company
Increasing use of external resources
The main benefits of IT Outsourcing are:
Outsourcing Cut Costs
Costs are more predictable when you outsource. For instance; when you use a hosted server it offers you to fix the expenditures at some predetermined amounts every month. There are no maintenance costs or equipment expenses apart from fixed amounts.
Proficiency
The most popular reasons for outsourcing any project is to have an access to expert knowledge and experience that present employees may not offer. The best thing is there is no need to pay for any training of your IT person. It is the outsourcing company that trains the employees for you about recent techniques and programs.
Access to Global Resources
There are a lot many outsourcing companies that can help businesses without employee availability, office space, or personal language in order to serve clients in different time zones throughout the day.
Savings
Savings from outsourcing can be really dramatic. According to researches, more than 80% of the businesses with less number of employees would take in major savings from outsourcing e-mail management all alone. IT companies have the ability to offer an access to equipment and services at very lower costs than your business may incur to get it alone.
Best Practices for IT Outsourcing
Determine the right project
Not all projects can be outsourced. Outsourcing works best when your project has specific requirements, or is unrelated to your core business.
For example, many companies turn to cloud services like Google Cloud and Amazon Web Services to host their websites. The company may excel in building web applications, but don't have the resources to manage a hosting environment.
Instead, they hire cloud service providers to provide and maintain the infrastructure for them. They get the benefit of a professionally maintained environment without the cost of maintaining their own systems.
Outsourcing should leave your team free to focus on what they do best, while also allowing you to deliver your project faster.
Make a plan
Create clear, realistic objectives with well-defined timelines. This gives you more control over your project. It also allows vendors to create realistic, well-defined proposals.
The more information you have, the easier it is to estimate the size and cost of the project. And by creating a good plan at the start, you always have something to refer back to if the project goes off course.
Choose a provider you can trust
Your outsourcing provider is an extension of your company. Choose someone you feel comfortable sharing business and trade secrets with, or the project won't progress.
As a baseline, choose a provider that understands your industry. They should also fully aligned with your objectives and business culture. The more they understand your needs, the smoother the project will go.
If you're still not sure, consider launching a small test project. This lets you work together without putting your main project at risk.
Get a dedicated team
For large, long-term projects, having dedicated resources is important.
A lot of providers charge using the Time & Material model. The problem with T&M is that the provider can shift developers onto different tasks based on availability. This is great for the provider, but it means the team is constantly changing. Constantly bringing new developers up to speed is both time-consuming and expensive.
Dedicated teams give you a consistent team for the project's lifetime. While initially more expensive, you save money in training and onboarding costs. Developers only need to be introduced to the project once. The result is a team that understands your project from the very beginning.
Go Agile
Agile development is the leading method of software development. 71% of organizations use agile, and agile projects are 28% more successful than traditional projects.
Agile development is done in multiple short iterations. Each iteration only lasts a few weeks and involves creating, testing, and releasing new versions. Compare this to traditional development, where a new release could take several months.
Agile lets you implement new changes with greater flexibility and speed. Companies as big as Microsoft have found success with agile in everything from small projects to enterprise-level projects. And despite its flexibility, many vendors offer agile at a fixed cost.
Don't base your decision just on price
Many companies turn to outsourcing to cut costs. While outsourcing is less expensive, it shouldn't be your sole metric.
The key is to find a vendor that's less expensive than an in-house team, but offers the same level of expertise and service. That can be a hard balance to find, but remember: you get what you pay for.
A lot of experienced outsourcers recommend creating a list of bids, then throwing out the lowest priced and the highest priced. Then, choose from the remaining options according to your budget, requirements, and expectations.
Outsource R&D
Many companies do research and development in-house to maintain ownership over their intellectual property. But R&D is hard, and without the right resources, companies can spend more time and money on research than they do on building the final product.
Outsourced R&D provides companies with the tools, technologies, and expertise needed to get to market faster.
One popular option is Captive Units. Captive Units are dedicated R&D centers complete with facilities, employees, and managers. Ukraine is one of the leading providers of Captive Units with a market valued at $3 billion.
Document everything
Document each stage of your outsourcing venture including deliverables, revisions, changes to the project plan, and updates. This helps you track your progress and gives you the information needed to maintain the project after the end of the contract.
Documentation doesn't take a specific form. It includes emails, meeting notes, manuals, bug tracker submissions, and even code comments. The important thing is to have a record of what was done on the project and when it was performed.
Communicate clearly
Nothing is more disastrous to a collaborative effort than not communicating. Communication keeps both parties engaged and aware of updates to the project.
This can be hard when outsourcing, especially if both teams are in different countries. Language, culture, and time differences all have an effect on communication. However, the project's success depends entirely on communicating. Roadblocks, development problems, and requirement changes can have devastating effects on a project if not communicated quickly and clearly.
With the tools and technologies available today, there's no reason for teams to not communicate. If you can't schedule a face-to-face meeting, make a phone call, send an email, set up a chat room, or use a web-based messaging tool. No matter how you do it, keep collaborating.
Own your project
Even though another company is working on it, this is still your project. Treat it as if it was being done in-house.
Constantly follow your outsourcing team. Use tools like JIRA, Trello, and Slack to track changes, updates, objectives, and comments from the team. Review deliverables frequently, and don't hesitate to contact the vendor with concerns.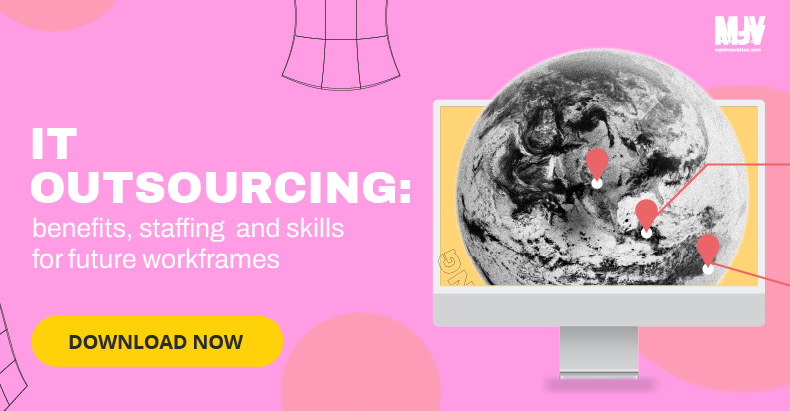 Back