07/07/2022 - By MJV Team
5 min read
Ideal Customer Profiling: Enhancing ABM
Organizations with a strong Ideal Customer Profile achieve 68% higher account win rates. Read and learn why ICP is one of the best account-based marketing strategies.
---
In the last couple of years, the popularity of Account-based marketing (ABM) has rapidly increased. It has emerged as the way for organizations to build personal relations with potential prospects.
Account-based marketing is nothing new, but its recent resurgence has been due to the evolving technological marketing landscape. In the internet age, with the sheer quantity of information at their disposal, marketers are constantly fighting for the attention of potential prospects.

Companies that want to generate ROI and drive revenue must focus on high-value accounts and contacts.

And that's where Ideal Customer Profiles (ICPs) come into play, as an excellent method for finding highly sought-after accounts and contacts.
An Ideal Customer Profile is a tool that offers quality insights into target buyers, through which companies can create customer profiles and effectively track the right customers to build long-term relationships.
The following article will first touch on the value of Account-Based Marketing before highlighting what an Ideal Customer Profile is and why it needs to be a part of any impactful ABM campaign.
So let's get cracking with:
Account-Based Marketing: The smart way to run marketing campaigns
ABM is a focused approach to B2B marketing, in which marketing and sales teams work side-by-side to turn accounts into leads and then, fingers crossed, long-term customers.
ABM programs are successful because they focus on generating revenue from a carefully selected list of target accounts. Essentially, they create an index of companies and contacts that are a sound fit for their products and solutions.
An ABM strategy can help boost marketing ROI, generate more qualified leads, improve conversions, and align sales with marketing.
Through a solid ABM strategy, organizations can proactively target their best-fit clients, those who are likely to continue buying from them long-term.
Ideally, a successful marketing team will become experts in its target audience, understanding their typical demographic, what they like, the platforms they'll spend time on, and what they value in a product. But sometimes, it can be challenging to discover all the small but crucial details about the brands or people with which the company most wants to do business.
So, how best to bridge the gap? Through ABM!
While inbound marketing is vital for pulling general audiences and demographics to a business's site, service, or store, ABM can facilitate the reeling in of top prospects and qualified leads.
To illustrate just how beneficial account-based marketing can be, allow us to share a couple of impactful stats:
67% of brands leverage account-based marketing. (Hubspot)
87% of marketers say ABM outperforms other marketing activities. (Rollworks)
80% of marketers say ABM improves customer lifetime values, while 86% say it improves win rates. (Terminus)
Account-based marketing is a strategy that focuses on creating a personalized experience for a few target accounts.
Unlike other traditional forms of marketing, which cast a wide net, ABM only targets a few high-value accounts. Understanding the target audience must be the basis of any decent ABM strategy.
With these insights, marketers will spend less time and resources on the wrong accounts that do not bring profitable results.
Picking the proper target account can be challenging for many marketers; it takes time, money, and people to attract, convert, and delight new customers.
Luckily there is a tool that can genuinely help bring the best out of an ABM strategy:
Ideal Customer Profile: Finding the perfect target audience
An ICP is a list of characteristics that can identify enterprises that would benefit the most from your offerings.

Companies that fit into the ICP are most likely to buy and continue to use your products, making them extremely important for business growth.
Through a solid understanding of the company's ICP, it's possible to attain an awareness of how to solve potential prospects' problems, both now and in the future. Therefore, to build a competent ABM strategy, a company needs to understand its ICP.
Through ICPs, sales and marketing teams can collaborate to turn prospects into customers who advocate for your brand instead of waiting for the right opportunity.
The essential purpose of ABM technology is to focus on a condensed pool of prospects. Not investing sufficient time in creating the profile can waste financial investment from both sales and marketing.
An ICP combines firmographic and behavioral characteristics that define an organization's most valuable customers.
They identify the challenges these accounts face and how you can resolve them. Moreover, they can identify the products or services you offer that will benefit the target accounts.
Based on an accurate ICP, content can be produced that resonates with target buyers, enabling a connection with them while creating a consistent and personalized experience.
So in summary, ICPs can bring in more revenue by targeting the correct accounts while promoting overall business growth and helping create long-term relationships with your ideal customer.

But besides ensuring that existing customers are an excellent long-term fit, an Ideal Customer Profiling framework also helps new customers feel valued, supported, and part of your community long after the sale.
Organizations with a strong Ideal Customer Profile (ICP) — achieve 68% higher account win rates. (Hubspot)
For more on the power of understanding your customer take a look at this complimentary article on Customer Profiling.
Building an Ideal Customer Profile
Creating a successful ICP is a strategic exercise that requires sales, marketing, and leadership alignment. An organization may often need multiple ICPs based on the number of products/services offered.
The Development of an ICP requires a few basic elements:

• Qualitative analysis
• Quantitative analysis
• Intent data
• Predictive analytics
An ICP can inform entire sales and marketing strategies, from content creation to advertising to sales outreach, by answering strategic questions such as:
• What sort of messaging resounds best with your buyers?
• What prevents them from buying?
• How to best communicate your value?
Based on your business goals and product/service, an ICP should focus on gathering relevant information within each department, such as industry verticals, technology stack, and employee size.
This information is needed to develop the target account list, segmentation, approach, and other significant activities.
Once enough customer data is gathered and identified, company size or industry patterns can help inform potential sweet spots for your offerings – which should be mapped out across the ICP.
With the intel at hand, a clear understanding of which solutions to pitch, provide support for, and help tailor the ICP around can be had. Then, all of the previously mentioned juicy benefits can be reaped.
Account-based marketing + Ideal Customer Profile = VALUE
With marketing, it's essential to know what makes ABM techniques successful and how they differ from other target audience marketing tactics. Additionally, it's crucial to learn about the targets a business is interested in marketing to: the target audience.
Before implementing an ABM strategy, an organization really should gain enough insights about the accounts that fit its ideal customer profile. This is crucial for the overall success of the account-based marketing strategy.
As highlighted in this article, building an ideal customer profile is a fundamental step for any ABM strategy. Not having an ICP leads to confusion among team members as they are not sure who to target. Moreover, ICP also helps create valuable and personalized experiences for target accounts.
ABM is an ongoing continuous process that requires constant experimentation and personalization. If you and your company are looking to bolster your ABM capabilities and would like guidance on how best to find your ICP, then you are in luck; we can be of assistance, so get in touch for a free consultation.
You know, there really is no need to go solo on this!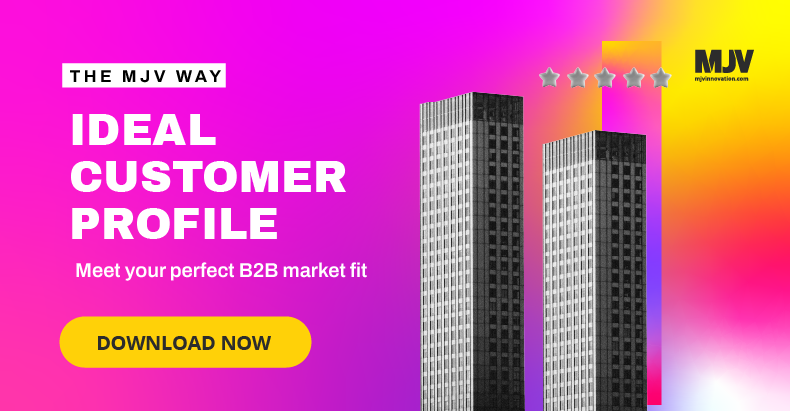 Back