03/09/2020 - By MJV Team
5 min read
Data-Driven Mindset: how to implement data culture in your company?
Before diving into the urgency of orienting your business around data, let's take a look at a quote from the famous mathematician, Karl Sigmund:
---
Everything that can be shown through an image, should not be counted in words.
It is no coincidence that data visualization has gained such relevance in recent years.
It's quite common that before seeing the results of efficient decision making, it is necessary to deeply understand your business and identify which KPIs are, in fact, important enough to be displayed on dashboards.
Let's start with what the data-driven mindset is! It's worth noting that it is not a simple action plan. It is embedded within the company's DNA, it is the way they carry out their processes.
Data Culture goes far beyond a strategy that simply guides a company's data. It is a mindset that directs professionals in an organization to see value in the information built from the data.
Don't think that the data mindset is the result of infrastructure alone. There is no perfect combination of tools, dashboards, and analytics teams.
What builds a data-driven business is the ability to identify the right challenges and map the data needed to create solutions in line with customers' wishes.
The benefits of guiding your decision making with data are numerous, among them:
Cost reduction
Decrease in rework
Efficiency
Customer satisfaction
Market value
We wrote this article so you can start implementing this new culture in your company as efficiently as possible.
The rise of data-driven culture
Big data. Data Science. Analytics. Dashboards. Business Intelligence, data vocabulary has invaded the meeting rooms and business strategies of companies around the world. 
Is it just another buzzword? Why is this happening? It didn't start overnight. Let's understand this in more detail.
According to Forbes Magazine, these were the most valuable companies in the world in:
In just 9 years, technology companies overthrew every other sector. In addition to winning the market, they also won the minds and hearts of their users.
Brand Finance has already released its 2020 results, the most valuable brands remain in the same sectors:
Amazon (retail)
Google (technology)
Apple (technology)
Microsoft (technology)
Samsung (technology)
It is worth highlighting 3 important issues:
Amazon debunked the 1st place giant, Apple. Technically you could say that Amazon is strictly a retailer, but that would be too simplistic. They are one of the most beloved Retail Techs in the world. See: it was technology that catapulted this retail company to where it is today.
Facebook dropped from 5th to 7th – due primarily to its glass roof and lack of enticing offers.
Following in the footsteps of Samsung, Huawei is ranked 10th.
There is no doubt that if there is something to be prioritized, it is data.
Now that we have told you a little about the rise of data, we will list three points that you must take into account during decision making:
value
alignment with the user's needs
viability
Believe me: only the data will give you the speed needed to analyze each of these factors before making any decision.
Finally, here's a tip: Do not hold any meetings without some data to show during it. This can help streamline many processes.
Advantages of data culture
Now it is easier to understand the value that data has! It's able to promote:
efficiency and agility for your business strategy
continuous improvement in the decision-making process
cost reduction
generation of new revenue streams and incremental increase of existing ones
development of new business models
reduction of time to market
competitive advantage
strategic mentality
Influence of the data-driven mindset by sector
We have separated 3 very important sectors to look at:
Financial
Fintechs are the keyword here. This business model that brings together finance and technology has figured out what the Digital Era, Z-native Generation fears were regarding financial services.
They started a new business model:
Less bureaucracy
More autonomy
Better relationships
More affordable costs
How did this happen?
By opening the data black box, you can figure out what the user values. From then on, you just plunge into innovation and secure your time in the sun.
It is worth remembering that the plunge into analytical culture is just one of the factors that collaborated with the escalation of fintechs, but there is a little more to it than that.
Insurance
Undoubtedly, risk assessment is the core business of the insurance market. 
Telemetry appears as a light at the end of this tunnel. Popular in the transport sector, it promises to capture data related to the behavior of the insurance user for in-depth analysis.
Sensors and devices capture data from conductors, for example. These values provide insight into a range of driver profiles.
This assists in insurance risk assessment and, consequently, has an effect on pricing. In this way, it makes it possible to assign prices based on the performance of drivers, establishing strategic variables and scores.
Retail
It's not a novel thought that the heart of any business strategy should be the user.
What we have noticed is that this concern for what their customers' value has exponential untapped potential, capable of giving rise to new business models, more analytical marketing with emotional connections, and a high dose of customization.
We are entering the Era of Scale Personalization. This is the next level in terms of customization and also covers processes related to products, logistics, supply chain … everything converges on customized strategies and actions.
This move requires the retailer to activate all available customer data to offer more relevant experiences for existing and potential customers.
Everything they need to enjoy the product/service in the best way possible.
It also requires so-called Platform Thinking, in which digital technology is used to provide customizable and repeatable experiences to consumers – customers choose, within established standards, how their shopping experience or retailer relationship will be like.
Start implementing data culture now
Design Thinking
Today, we are going through a very different moment from others we have already lived. Remote work. Social isolation. Homeschooling. A life that is much more digital than before.
And for the most part, that is how things will be until a vaccine arrives. This is the new normal and everyone must be aware of it.
Understand how people are feeling, how they are dealing with the new reality, what changes it brings, and what we have in common.
What we need at this present moment is to focus on the individual, to know and understand their needs in-depth. That will lead us to rethink strategies as well as all the technological possibilities at our disposal.
What we just outlined above is exactly what Design Thinking offers: solutions for the user's needs, business value, and viability. 
Data integration
An in-depth understanding of business challenges provides the right choice of KPIs to generate valuable insights. It is time to integrate all the data needed to build the indicators and make them transparent.
Combine data – structured and unstructured – from a number of different sources through integration software. Use a Big Data platform.
Access key
Deconstruct the culture of huge Excel spreadsheets. Dashboards are great for scaling analysis and consolidating the data-driven mindset. That way, everyone can access any data on demand.
Visualize your data
Analysis of data promotes efficiency in decision making, error reduction, improvement in time to market, but, above all else, it enables us to find the right solutions to challenges.
Consult data without moderation!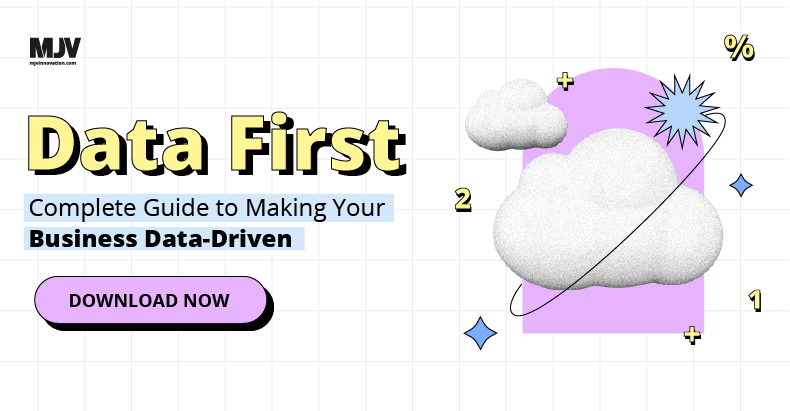 Back