15/02/2021 - By MJV Team
5 min read
Discover the practical applications of AR and VR in various sectors
Let's start this article with some interesting facts about Virtual Reality (VR).
---
In 2020, Apple acquired a Virtual Reality event streaming company called NextVR. This company records events like shows and sports games in VR and develops its first headset to be launched in 2022. According to Bloomberg, this is a more ambitious augmented reality product that will present an interactive 3D digital environment for games, watching videos, and virtual communication.Tim Cook, Apple's CEO, says that both VR and AR have a lot of market potential. Well, and if he's talking, who are we to say otherwise, right? If Apple is investing in it, we should turn our attention to these technologies.
Therefore, we have prepared this article to help you understand a little more about these technologies and how to apply them in your sector.
What are AR and VR?
We imagine that you have seen these acronyms in many different places. This is because the two technologies can be applied on several fronts and objectives. Retail, health, and entertainment are just a few – and we'll talk about that later.
First things first. After all, what are VA and VR? Augmented Reality and Virtual Reality are technologies that are part of the equation of so-called immersive technologies derived from each other but have various applications (and maturity levels).
Virtual Reality works by immersing the user in a completely virtual environment created by computer graphics or video 360. It aims to provide a sensory experience in a simulated environment through visual, sound, tactile stimuli, among others. They need props, like the famous VR glasses.
Augmented Reality consists of adding virtual aspects to the real world by superimposing digital elements in the physical environment. This integration always occurs through a screen and aims to expand our understanding of a given context, providing the user with relevant information.
There is also a third reality: the so-called Mixed Reality. As the name says, it acts at the intersection between the physical and the virtual world. The results we have today in MR are obtained by adding holographic technologies to the increased context. Although it is still relatively embryonic, it is also one of the most promising aspects of immersive technologies. But this is not what we're going to focus on.
As we said earlier, we will talk about these realities in each sector. Follow along to learn how to apply them in the context of your company!
Virtual Reality: How to use virtual intelligence to solve real problems
→ Metaverse? How's that?
Metaverse promises to change entirely the way we use the Internet – and VR and AR are at the core of this process. Are you into the topic? Click here and read our article breaking down the Metaverse here.
Practical applications I: Retail.
Retail is a very fertile ground for AR and VR applications. Putting new consumer habits into perspective and adding the pandemic, social isolation, and fear of contagion to this equation become perfect solutions.
Let's start with something that isn't even that new, but that has become more and more popular: QR codes. Today, most mobile devices (smartphones and tablets) are shipped from the factory with a QR code reader. When opening the camera application, just position it to read the code, get information about products, make purchases, and even take advantage of promotions.
What if you could try out various makeup combinations to find out what works best for you before buying them? This is one reason why many women stop buying certain products (mainly with higher prices) or become frustrated with the purchase. Therefore, Shiseido understood this pain point and invested in a "smart mirror". The mirror is nothing more than an Augmented Reality monitor displayed at a point of sale. Its function? Precisely assist the brand's customers in finding the best makeup combination for their customers. The system photographs the person's face and shows how the item would look when applied to the skin.
Ikea also joined the technology. Doubts about redesigning your homeroom? The furniture store developed an application that allows the customer to view the product catalog through the camera. You can see how that new sofa will look in your living room without having to go to the store or a tiring journey with the measuring tape. Just install the application.
The paint brand Coral has an application to solve a recurring which color to choose when painting your house? With the app, the customer tests different colors through the camera and chooses much more safely.
Fast-fashion stores are also joining this wave. Augmented Reality displays help customers see how the chosen pieces look on them without having to try them. Yes, try on clothes and shoes without going to the changing rooms with dozens of hangers or even going to the physical store.
Practical applications II: Insurance Markets
Virtual Reality comes to transform the insurance industry. It may be surprising at first, but it makes perfect sense. Virtual Reality can be used as an excellent tool to alert policyholders of possible risks. It provides safety training for policyholders and employees to reduce accidents.
VR can help also helps in pricing auto insurance. With simulated vehicle driving tests, the broker can assess the insured and be much more assertive in choosing the type of insurance and coverage needed.
What better to understand how to use virtual intelligence to solve real problems? Download our Virtual Reality ebook and find out right now!
Practical applications III: Health
In the healthcare industry, Virtual Reality and Augmented Reality technologies can save lives. This is because both provide a series of procedures in a much shorter time.
An example is an urgent analysis for surgery. By using tablets or holographic glasses, doctors can view organs in 3D and consult the patient's situation before or even during the surgical intervention.
Technology is also valuable as a teaching tool in an extremely technical and complex area. With Augmented Reality, young doctors could interact with organs designed virtually, improving the learning process and decreasing the risk of medical error.
Practical applications IV: Entertainment
The entertainment and games industry did a great job of giving visibility to Augmented Reality. And technology paid off. You have probably heard of Pokémon GO's resounding success. The game took just 19 days to reach 50 million users. What did it take for this massive conversion in such a short time?
A large number of users entering the system quickly
Servers to handle this vast traffic
Process data
Use of augmented reality systems and interconnection networks more effectively.
The icing on the cake? The game's launch helped Nintendo increase its stock value by $ 7 billion in just one week.
Taking advantage of the opportunity, Niantic launched the game Harry Potter: Wizards Unite. The game also uses augmented reality and has a GPS map as a base, but has slightly different dynamics than the pocket monsters app.
Sports fans have also seen a positive change with the application of Augmented Reality to TV broadcasts.
This technology is also present in the filters of social networks like Instagram, TikTok, and Snapchat. You may notice that some unwanted effects end up happening for a few moments when you move your smartphone too fast. 
---
As you can see, the evolution of VR, AR and consolidation of MR will dramatically change the way we build experiences.
We have an insightful e-book about it. Click on the image to download it.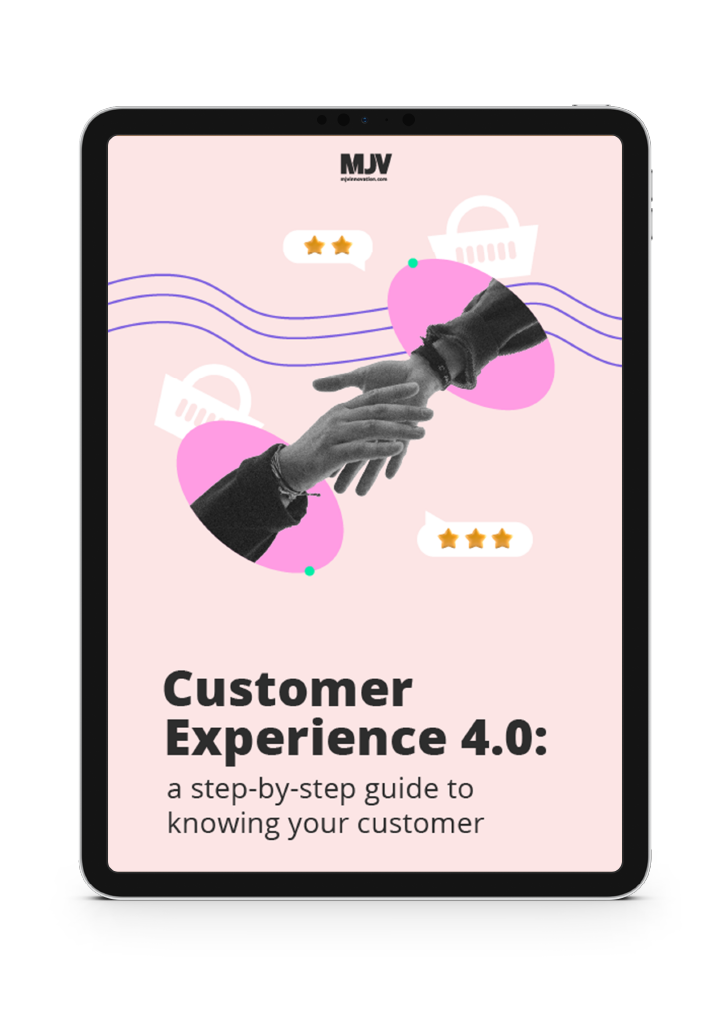 Augmented or Virtual: it's time to dive into other realities!
Regardless of your industry, the practical applications of AR and VR are exponential. The sky is not the limit, especially if you think about how consumers like it – and want it.
Offering a differentiated experience in any segment will guarantee that customers will remember your brand.
AR and VR solutions, in addition to being impactful, are relatively simple to develop. Here at MJV, we have an innovation laboratory, the MJV Lab, where we combine design, data science, and various technologies (VA and VR are among them, of course!) to create the dreams and future of many businesses.
We have already developed solutions and prototypes for customers and partners from various sectors, and we enjoy embarking on new ideas and projects. Is that you? Do you already know how to apply VA and VR in your company? Get in touch!
Back