06/04/2021 - By MJV Team
6 min read
Discover the 7 stages of strategic planning
If you want to have a 2021 that is much better than 2020, you have no other choice but to draw up a good strategic plan. Follow our 7 steps and get your ideas ready today. Access now!
---
The market has never changed so much in such a short time. The expression "overnight" started to mean something that demands a lot of time. Because of this, strategic planning (or re-planning) became the ace in the sleeve for corporations that quickly adapted to the new normal.
It was necessary to adapt quickly, leaving the old aside in order to survive the construction of the new. The solutions that used to solve our old challenges do not solve the ones that appear now.
The truth is that everything changes, every second. As you read this sentence, certainly a group of young people in Silicon Valley – or rather, in remote Silicon Valley – has already found a solution to a problem that we didn't even know existed.
The so-called new normal is not even that new anymore. And it's here to stay.
Companies, sectors, countries and people are adapting to survive. And if you want to start designing a future that is really aligned with the moment we live in, now is the time to tear up the old planning and start a new one, from scratch.
But, not to worry! Indeed, there are many possibilities and opportunities in the future that come with everything. Follow along to better understand where to start your strategic planning and how it can guide your company to long-awaited success. Check it out!
Declaration of values, mission and vision
First, let's define what each of these items are, ok? As much as you already know, it never hurts to remember.
Mission : the reason that justifies the existence of your corporation
Vision : where the company wants to go in the short, medium and long term
Values : are the non-negotiable principles that your company does not give up
These three together make up your company's organizational identity. And that's what we're going to talk about.
There is no doubt that the heart of every company is the user. This is the most valuable asset.
The consumer remains more aware than ever. And more demanding as well. The search for bonds that are increasingly aligned with more sensitive values ​​sets precedents for questions like, "what do companies do that is relevant to the world?".
There is a need to overcome the barriers of the organization itself and commit to mission, vision and values ​​that really impact the world in a positive way.
It is worth noting in the notebook:
Dive deep – deep into your business – and understand your company's interests and your consumer's behavioral patterns.
Design Thinking can help a lot in this mission. DT traces a panorama with all these components to deeply understand the individual through his analyses.
More than ever, you need to build a brand, not a corporation. Believe me: the purpose of your organizational identity has more and more power in the purchase decision.
Thus, it is essential to base your communication and relationship on truth to win the hearts of new customers and keep the flame burning with old ones.
So you have nowhere to run: start your strategic planning by building a solid organizational identity that really makes sense, that is connected to your truth. In this way, it becomes easier to disseminate this culture among your employees and to always remain aligned with it.
Analysis of the external environment
For your strategic planning to work and make sense you need to be in line with what is happening around you, what are the movements of the market and consumers.
Thus, it is necessary to make a constant analysis of the opportunities and threats that permeate your business. All companies are constantly impacted by these two forces: opportunities with positive effects and threats with negative ones.
What is the best way to take advantage of opportunities and keep threats out of the external environment? The answer is in the next item. Check it out!
Analysis of the internal environment
It may not seem like it, but it is relatively simple. Remember that we talked about your organizational identity and how it needed to be solid? This is why: it will be the basis for an internal environment capable of resisting the weaknesses of your company.
The strength of your corporation is directly linked to the internal environment. It represents your strengths and how you deal with impacts. What factors affect this internal environment? Adaptability, flexibility, resilience and agility.
And how are these going to help us? With speed ​​in learning and decision making. To survive, you need to develop the ability to adapt quickly and efficiently to all forms of change.
Analysis of the current situation
Now that you understand the external and internal environments, it's time to understand the current situation of your company, with its resources and difficulties.
See, here there is an important difference between the internal environment and the current situation. The external environment is composed of strengths and weaknesses, and these don't necessarily have to do with the current situation.
The current situation changes according to a number of variables. And it is these variables that you will evaluate using data. Yes, because data doesn't lie.
It is at this moment, too, that the famous KPIs (key performance indicators) are established.
Putting data and KPIs together, you get an overview of your corporation's results. These are the central indicators that your actions are being successful (or not).
Setting goals and objectives
This is when you define where your company wants to go. Of course, the sky's the limit, but let's go in parts, okay? Setting real and attainable goals and objectives is essential to not being frustrated by expectations.
For that, be smart and think about following the SMART standard (get the pun?).
In this sense, we have to highlight something very important about strategic planning: it is part of an infinite process. Each planning is unique and is part of a cycle of goals and objectives.
Do you know that old story of "when we reach the goal, we will double the goal"? This is exactly what makes sense for good planning.
Did you reach the goal and objective? If so, then clear your plan and restart the cycle. Yes, redo the entire process to create new objectives and new business plans for the subsequent period.
What if you paint a crisis in the middle of the road – how did the global pandemic of Covid-19 happen? Will we be prepared for that moment? The answer is "yes". And let's say how: through planning a Business Continuity Plan.
The NCP is the answer to this type of problem and it is what always puts us one step ahead.
Basically, the plan helps to develop actions to protect the core of essential business tasks. With that, we guarantee the operations continue to function even when we face times of uncertainty.
Do you want to better understand what the NCP is and learn about some tools that can help you safeguard your business in times of crisis? Access our ebook now and be prepared!
Strategy definition
The route has been drawn, now it is time to define the strategy to achieve the goals and objectives. Remember: without a well-defined strategy that can be followed, you don't get very far.
But you may be asking yourself: how will I know if I have defined a good strategy? Calm down! Management guru Michael Porter will help. According to him, there are 3 basic strategies:
Differentiation : your business should be a highlight among competitors, it will have a clear differentiator. Here, your products or services must be exclusive, of unique and incomparable quality.
Low Cost Leadership : Here the rule is simple: win the market by offering a lower price than your competitors.
Focus : conquer a specific segment of the market. How? Meeting demands that have not yet been fully met.
See: a good strategy can be your company's competitive advantage. However, there is something that must be brought to the forefront: your organizational identity. And, of course, your target audience as well. Otherwise, your strategy won't work – at least not for long.
Feedback and Control
Last but not least. In fact, this step is very important. And, believe me, it is often overlooked by managers and teams.
However, what's the use of going through all these steps, making a strategic plan only to end up being envious and not monitoring what is being put into practice? How will you know if you hit the target well or only grazed it?
In order to know if everything is evolving correctly as planned, it is necessary to gather feedback and controls constantly.
To calibrate your strategies, feedback and controls are constantly required.
This is what will enable continuous improvement and the achievement of even more expressive results that generate more and more value for your business.
The rule is clear: planning is necessary!
Moreover, it is fundamental. We hope that our step-by-step guide will help you get your strategic planning off the ground and achieve even more exponential results.
But, remember: don't keep your plan hidden, ok? It must always be visible for two reasons:
1 – Must be shared with all members of your team
2 – It needs to be edited and adjusted in real time, as the scenarios change. Actual planning is done every day of the year.
About this, we have 3 important tips:
Create solutions to integrate and visualize data
Evaluate and validate your actions and keep all information available to everyone, nothing better than having a Dashboard.
Metrics tracking routines generate valuable insights into your business strategy and planning adjustments .
There is no point in having strategic decision making if it is not really fast and effective for your customers. And remember: they are your company's biggest and most precious assets.
And if you are looking for strategic planning that is even more assertive and that generates value for your corporation or if you have any questions about how to start yours, visit our library and check out our content. There are a lot of cool things there and we are sure that our materials can help you a lot.
Good planning and good reading!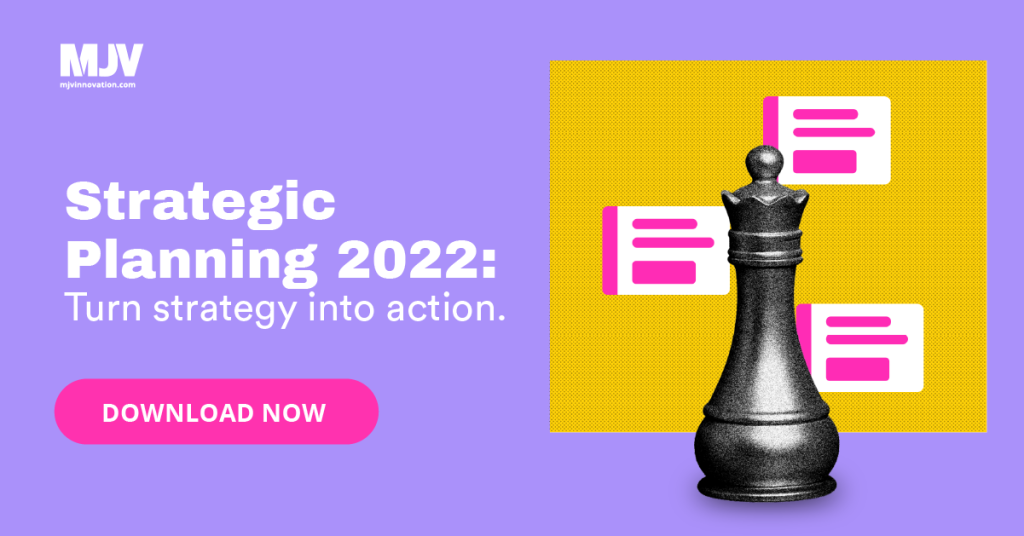 Back