22/12/2022 - By MJV Team
6 min read
D2C Explained: How To Cut Out The Retail Middleman
D2C is a rising star in the business world! Read on and see how D2C works, its benefits, and implementation challenges, plus 6 bonafide successful examples that include ecommerce platforms, digital marketplaces, and subscription services.
---
The retail landscape can sometimes become confusing with all the hype and excessive jargon (B2Cs, B2Bs, and D2Cs). But one of the abbreviations mentioned above shows signs of breaking through, becoming the trend for both e-commerce and retail brands: Direct-to-Consumer, or D2C.
Business in the digital era is different; it revolves around producers, who are also distributors. Direct to Consumer operations that produce, pack, distribute and ship their products. D2C e-commerce has driven dramatic change in the retail landscape in recent years. Established brands are following in the footsteps of the likes of Amazon and are growing by using a convenient approach to e-commerce.
But such brands still need to find innovative ways to differentiate themselves from the aggressive competition and do DC2 correctly.
Read on for an overview of D2C, including:
What it is;
How it works;
The pros and cons;
6 innovative company examples.
As ever, let's start with the fundamentals.
What does D2C stand for?
D2C is an abbreviation for direct-to-consumer. It names a company that produces a given product as well as distributes it. A vertical business model that, with the help of a solid plan incorporating e-commerce platforms, digital marketplaces, and subscription services, can work for almost any industry.
But the real magic of D2C comes through the fact that there is no need to work with a wholesaler or a middleman to reach the final customer.
Cutting out the middleman
The idea is to remove resellers, producers, and other companies that get between the brand and the customer and bring the company and target audience closer.
A more traditional retailer business model goes from the manufacturer/producers >> to a wholesaler >> to a distributor >> to retailers >> and then to the consumers. But the D2C e-commerce model quite literally "cuts out" the middleman.
And consumers like this:

Why Brands are becoming D2C: The Benefits
Retail has dramatically transformed since the advent of online shopping. Customers are increasingly purchasing online, going straight to the source.
The advantages of getting in front of your customers online are real, and growth doesn't show any signs of slowing:

There are several specific advantages to the D2C model. By leveraging a direct-to-consumer model, businesses can better control their profitability, controlling the entire process, from manufacturing to shipping and delivery.
This allows many DTCs to offer more competitive pricing options as their margins are higher. Other benefits of D2C include:
+ Access to targeted customer data
+ Personalization & Improved CX
+ Profit Maximization
+ Innovation & Brand Control

Let's explore these benefits in more detail.
Access to targeted customer data
When products are sold via wholesale to a retailer, limited feedback occurs about how customers purchase products. That all changes with DTC as consumer data becomes more readily available. Analytics, for example, on how shoppers interact with websites; and the actual demographics of who is shopping and buying products can offer excellent insights.
As ever, here at MJV, we believe in the power of Data; the more known about the customers, the more accurately a company will be able to:
• Map the customer journey;
• Develop desired new products;
• Follow trends relevant to your shoppers.
Bonus: access to customer data also enables more regular testing of new products.
Personalization & Improved CX
When an organization sells directly to consumers, they have more control over the customer experience. A personalized shopping experience can be built through customer data that appeals to an ideal customer profile.

How exactly they want to shop, for example, is a crucial question to be answered. The key is for a brand to be flexible and more targeted with its marketing strategy.
More direct customer feedback will also improve the customer experience, allowing for quicker trend responses and adaptations to changes in shopper demand or shifting consumer behavior.
There is also personalization potential for the actual products, which is also related to data capabilities. The more customer information and data an organization has, the better it can adapt its product range. And making that extra effort to make customers feel special through product personalize has been proven to be highly rewarding:

Tip: So make your products as personalized as possible. Customers also appreciate the 'try before you buy' concept.
Profit Maximization
Here we go back to cutting out the middlemen again. When a company is the one producing, selling, distributing, and promoting a product, there can be no doubt that funds and profits are theirs alone. This, of course, does not mean instant success; to start, an intelligent, economical plan for a company's cash flow also needs to be in place. But the point is that, via D2C, there is potential to make more money, as there is no need to share profits with a third party.
Furthermore, brands can sell their products at the same price as retailers with no markup from cost to gross sale. In the era of supply chain concerns, direct selling offers clear advantages.
Innovation & Brand control
D2C facilitates manufacturing new products at a smaller scale to test them within selected demographics. Manufacturers can gather valuable insights from the collected feedback and adjust accordingly to what customers want and what products to sell. In contrast, with a non-D2C, retailers typically lean toward limiting inventory and selling proven products, restricting innovation and production to only what retailers want and request.

Plus, when a product is in the hands of retailers, manufacturers might have marketing specifications to pass along. D2C brands are in total control of their products and have the freedom to opt for omnichannel selling.
So it's a no-brainer? We should all become D2C companies tomorrow? Well, hang on a minute; things might not be as clear cut as they seem:
What are the challenges of implementation?
Being a D2C can be a real challenge; for every success story, many have fallen by the wayside.
The biggest challenge for every D2C company is the shift of responsibility in general, as there is nobody else to share the load. But in general, much of that responsibility falls into the falling areas:
• Hurdles to growth: Digitally native brands typically pivot to an omnichannel approach to scale the business. D2C brands need help to engage customers online and may have to acquire a physical retail presence to have better customer retention and fewer product returns.
• Increased responsibility: D2C businesses do not rely on resellers to handle any part of the business operations. They have complete control and full accountability for nearly every facet of the supply chain, including managing an online store, customer acquisition, conversions, fulfillment, returns, packing, warehousing, and more.
• Marketing costs: Without the help of big-box department stores peddling their wares, D2C brands must work harder to make a name for themselves. Many startups rely on influencers and paid marketing campaigns to spread the word, but becoming a household name can take time and effort.
6 successful D2C business models examples
Ok, enough of the theory; let's look at six companies that have successfully made the D2C approach work. Observation: consider how the following companies offer something personalized for their audiences.
1. Oura Rings
The Concept: The smart ring manufacturer sells just one product: a ring that provides personalized health insights, sleep analysis, and heart-rate monitoring.
The D2C Magic: During the pandemic, Oura had great success as their devices are less of a fitness tracker and more of a health monitor also focusing on just one offering, the brand has created a customer-designed product to great success.
2. Casper
The Concept: The mattress brand successfully disrupted a well-established industry by creating a straightforward "bed-in-a-box" business model that offers the best quality mattress possible at an affordable price.
The D2C Magic: The brand has had great success partly due to its ethos of delivering quickly, for free, with a 100-day trial. But Casper's real game-changing play comes via their use of data to customize their mattresses – this is summed up by the fact that they see themselves as a tech company.
3. Dollar Shave Club
The Concept: Simple enough; they provide customers with a personalized set of shaving tools, nothing much to see and hear here, right? Wrong!
The D2C Magic: The mix of their innovative marketing campaigns and the ease of purchasing (they offer 3 subscription plans to its customers to make it easier for them to purchase.) Today Dollar Shave Club is not just a razor company but a lifestyle brand, plus a massive player in their market.
4. Bombas
The Concept: Started out only selling socks, they have since expanded to sell other clothing items, but their principles remain the same: "comfort is everything".
The D2C Magic: What makes Bombas unique and is one of the brand's main selling points is their strong ethics. For every item purchased, the brand donates an item to someone affected by homelessness. Showing their audience they care makes a difference.
5. Nanit
The Concept: They offer baby sleeping monitoring devices that provide personalized insights to help parents understand their baby's sleep routines.

The D2C Magic: Success has come from the fact that their offerings are difficult to sell in large stores due to the individual aspects of the products. Nanit worked out that a direct-to-consumer approach was the way forward, creating quality top products supported by cutting-edge technology. And the results? In 2020 they secured $21 million for growth funding.
6. Warby Parker
The Concept: The American brand, seen by many as the gold standard of D2C brands, has made purchasing glasses online possible and convenient.
The D2C Magic: To bring things around full circle, Warby Parker has been able to offer lower prices than other brands by designing its own eyeglasses, avoiding licensing fees, by, you guessed it; cutting out the middleman!
What's next? The Future of D2C
D2C is going to play a significant role in the future of Retail. With continued disruption happening across supply chains, more and more organizations are turning to D2C e-commerce to sell to end consumers directly.

Suppose you're considering becoming a D2C brand. In that case, there is plenty to ponder, from coming up with your distribution channels to your social media presence, which is no mean feat, as consumer brands are now tasked with creating exceptional, customer-led experiences.
---
Don't forget to check out our new release: The Multiverse of CPG & Retail Trend Report. There, you'll envision what's next in terms of innovation, technology, and the customer experience in several areas of consumer goods, as well as find out the answers to some of the biggest challenges in the sector.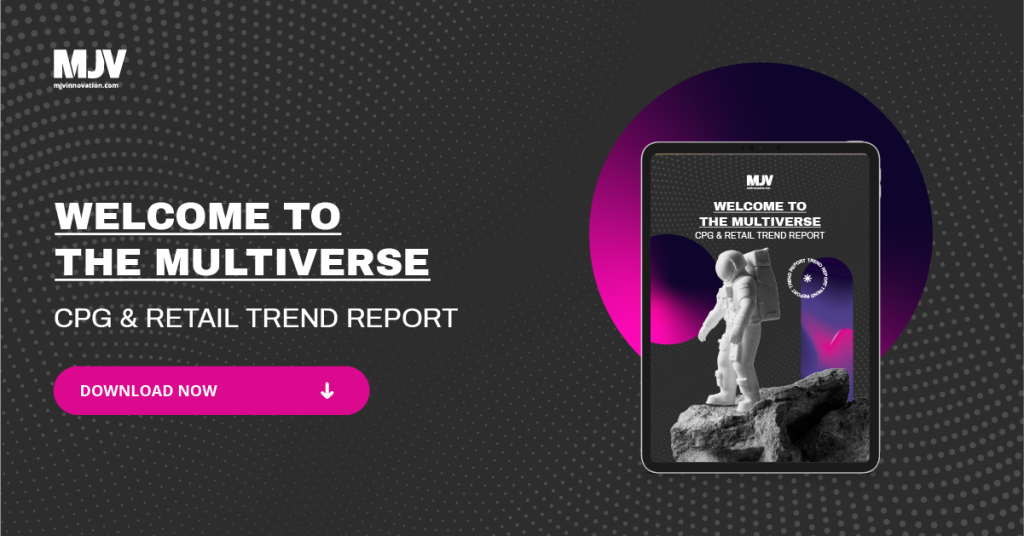 Back