07/12/2022 - By MJV Team
5 min read
The Multiverse of Consumer Goods: 4 Upcoming Opportunities in CPG, FMCG, and Retail
CPG & FMCG have long held a history of generating reliable growth via mass brands. But with the advent of the Digital age and the unprecedented events of the last few years, that success now faces more significant pressure than ever as consumer behaviors shift and the channel landscape changes.
---
With this in mind, we present you with our vision for both industries as we invite you to explore the Multiverse of Consumer Goods.
Within the CPG and FMCG contexts, there are plenty of exciting new technologies for companies to embrace, some already here and others scheduled to hit in the not-too-distant future. From the fascinating advancements in customer interactions that came out of China with New Retail, to new smooth ways to make payments that emerged via innovative Fintech, all the way through to the almost ominous and overwhelming upcoming arrival of the Metaverse. There are so many opportunities out there for businesses that play their cards right.
But adding to the excitement of all the new technological opportunities, the way CPG and FMCG companies conduct themselves has come under scrutiny. Customers are now definitively expecting and looking for more – whether it's environmentally sound products, working conditions for employees, or even politically correct company branding. The consumer now drives and leads these markets, in stark contrast to the pre-pandemic scenario.

It's no longer ok just to put the user first; there is now a demand for organizations to also ensure they are morally making the customers feel good about doing business with them.
All this brings us nicely to our vision of the two industries, what we've coined the CPG & FMCG Multiverse.
Our Goal?
To provide top insights into the direction that the industries are headed, highlighting some exciting future trends. We chose the word "multiverse" to guide our narrative because it represents the scope of the transformation in the consumer goods industry, or as we see it — an endless succession of possibilities, whichever path your business is most inclined to take.
Read on and explore our infographic to see the biggest CPG & FMCG challenges, plus get to know the 4 Multiverses of Consumer Goods, which spotlights our picks of the CPG & FMCG trends that will have the most significant impact over the coming years.
---
Multiverse #1 – A Circular Future for Consumer Goods
A consumer-driven context has emerged driven by ESG macro trends, in which companies are more valued according to their commitments and practical actions toward corporate sustainability.
Chapter Topics include:
ESG responsibilities;
Circularity & Circular Design
Waste & Plastic waste challenges
Sustainable packaging design.
R&D & Design Materials

The Big Challenge: Waste Management
A significant section of the chapter is focused on waste management issues, specifically the ever-increasing and seemingly out-of-control use of plastics.
Solution:
When looking for answers, we strongly believe in the Circular Design approach. Covering how the old-fashioned linear economy system of (extract, manufacture, use, discard) is outdated due to the depletion of resources and raw materials. And how Circular design and circular products are the way forward.

Case Study: Driving Positive Impact in the Amazon
MJV teamed up with Pro Natura to design the SMART AMAZON app, an application where workers can visualize the entire production chain and monitor the economic and social development of the community itself. Read the full story here.
---
Multiverse #2 – Retail Fintechization
The retail sector is witnessing the consolidation of a new business trend — a fusion with financial services. The transformation involves the decentralization of financial services.
Chapter Topics include:
E-Wallets
Digital Payment Solutions
Banking as Service
Cryptocurrencies
Integrated solutions

The Big Challenge: Cash Wages
About 230 million financially excluded people still receive their wages in cash. Plus, businesses of all sizes worldwide are held back by the exclusionary, inefficient, unsafe, and opaque shortcomings of cash.
Solution:
Moving away from cash requires payment digitization to become more widespread and for corporate supply chains to harness its full benefits. These include more efficiency and higher productivity, increased revenues and lower costs, greater transparency and security, and stronger business relationships that drive more economic opportunity.

Or, in other words: Sustainable Development Goals.
Key private-sector actors in retail, consumer goods, garment, and agribusiness can play a crucial role in supporting financial inclusion by digitizing their salary and supply chain payments.

Case Study – Building a High-Fidelity Digital Wallet MVP
MJV worked with a Global Telecom Client to launch a new Digital Wallet for smartphone payment. The key was to validate a payment method concept with users (final consumers and retailers), verify adherence to the product, and identify unmet needs and opportunities for improvement in the current business model. Talk to one of our consultants and learn more.
---
Multiverse #3 – The Status of The O2O & New Retail
New Retail is all about providing options! Alternative ways for customers to interact and, ultimately, consume. The focus is on applications and personalized experiences, choosing the best possible channels and touchpoints and the most suitable applications to meet New Retail's opportunities.
Chapter Topics include:
New Retail's History
Merging Online and Offline
The Current State of Play
The Principles of New Retail
New Retail Trends and examples

The Big Challenge: Merging the Online and Offline
More of an opportunity than a challenge, but the goal is to follow the Chinese Giant Alibaba's Phygital vision and blur the lines between online and offline commerce, making the two become one.
Solution:
Embracing phygital concepts is an excellent starting point — the smooth fusion of the physical and digital worlds that incorporates digital functionalities within the customer's physical experience and vice-versa.

Case Study – Building an Immersive Experience for C-Level Associates
MJV worked with a leading FMCG company to create mobile immersive experience capabilities to help users understand the Chinese innovation ecosystem's concepts without needing to travel to China. The experiences incorporated: 360º video technology, gamification, VR, AR, plus other immersive gadgets.

Thrilled by this story? Our experts are looking forward explaining to you in detail. Reach us out.
---
Multiverse #4 – Meta Experiences & The Meta Futures
Last but 100% not least, we explore Web3 and the Metaverse (or metaverses). Through the combination of immersive technologies and Blockchain, there is a mixing of realities between the real and virtual. And all this comes with a whole new generation of digital ideas and capabilities — reading is believing!
Chapter Topics include:
The History and Current Reality of the Metaverse.
Potential Metaverse Opportunities
Web3 impact on Customer Experience
The Phygital Future of CX
Blockchain & NFTs

The Big Challenge: With several potential versions and opportunities, where to focus
When the subject is the financial potential of the Metaverse, the first thing we need to do is to get rid of all the speculation surrounding it. It's a matter of when and if: The total addressable market for the Metaverse could be between $8 trillion and $13 trillion by 2030, with total Metaverse users numbering around five billion. But with seemingly unlimited options, where best to focus?
Solution:
Here the key goes back to something we frequently harp on about Customer Experience (CX). Fundamentally, brands need to create robust omnichannel strategies that integrate all the exciting digital options that come with the Metaverse while not neglecting and, perhaps more importantly, lining them up with in-person, physical capabilities. The full Phygtial experience needs to be on offer for organizations to transform these new experiences into new relationships and sales channels.

---
So there you have it, a quick peek into one of our major reports of the year. And this is merely a glimpse into a much more detailed account. So if you:
Are keen to understand Circular design better and want to rid yourself of hazardous waste issues;
Are interested in seeing all the upcoming payment options coming our way soon;
Wish to comprehend better how New Retail shaped new Phygital capabilities;
Would like to get a real handle on what the Metaverse is and where it is heading
---

Don't forget to check out our new release: The Multiverse of CPG & Retail Trend Report. There, you'll envision what's next in terms of innovation, technology, and the customer experience in several areas of consumer goods, as well as find out the answers to some of the biggest challenges in the sector.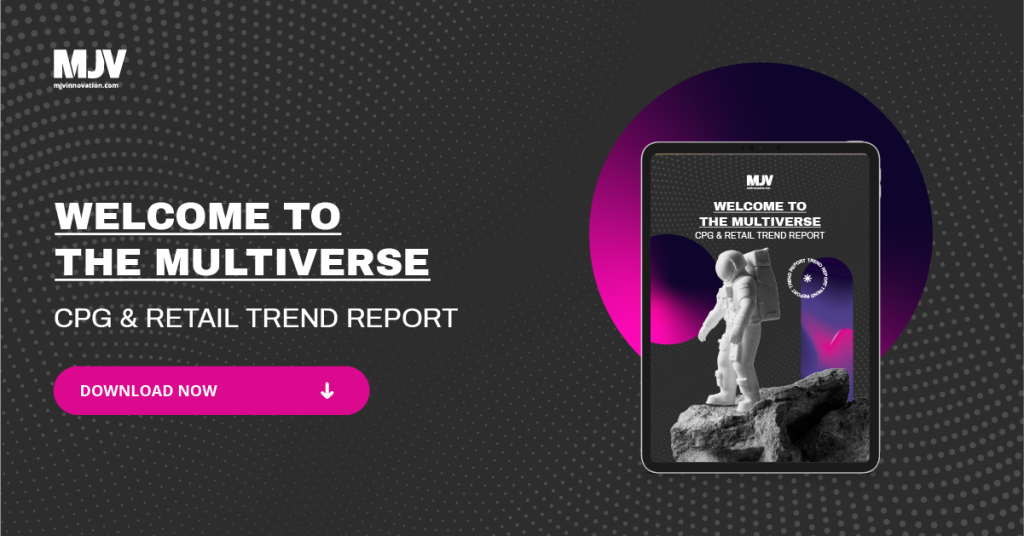 Back