17/03/2021 - By MJV Team
4 min read
Process mapping: how does this practice work?
Process Mapping is an indispensable tool to guarantee the process of continuous improvement in the organization. Do you want to understand more about this subject? In this post we will give you all the details about it.
---
Could we be more efficient? Avoid mistakes and rework? Decrease costs and waste? Is there any way we could improve the company's processes? Process Mapping helps us answer these questions.
Want to understand more about this tool? Follow us and we will bring you all the details and a step by step guide for practical implementation!
What is Process Mapping?
First, it is necessary to properly clarify this concept. Process Mapping is a tool used to identify all stages, flows and objectives of a given process in the organization.
Mapping processes also helps with the following points:
Presents the parties involved in the process;
Details the activities that make up this process;
Shows the decisions made during the activities;
Determines the process inputs and outputs;
Shows the relationship between the steps.
As you can see, the idea is of this tool is to provide a comprehensive overview. This allows managers to see all details clearly and make more precise decisions, which allows for improvements to the organization as a whole.
What is the purpose of Process Mapping?
Mapping processes is an activity focused on recognition and analysis. First, we will survey all activities and the links between them, with the support of visual tools, to identify the points for improvement.
We use Process Mapping to improve the perception of how the company works, as a whole. It is a step towards working with leaner processes and, consequently, improving the efficiency of the organization, in a generalized way.
In addition, other objectives of process mapping are:
Process documentation;
Improvement of processes;
Standardization of processes;
Transformation of processes.
Now that you understand a little more about the concept, the time has come to learn how to put it into practice, isn't it? That is what we will deal with in the next point!
What are the types of Process Mapping?
To begin your journey, you must understand what types of maps can be created. There are many types of mapping, but in this blog post, we will bring 4 examples. Check it out below:
Process Flowchart
Basically, it is a design that uses some standardized symbols to represent the chain of all processes. It is quite simple, but it gives us a detailed view of everything that happens, from beginning to end. In addition, it is essential to identifying points for improvement in the processes.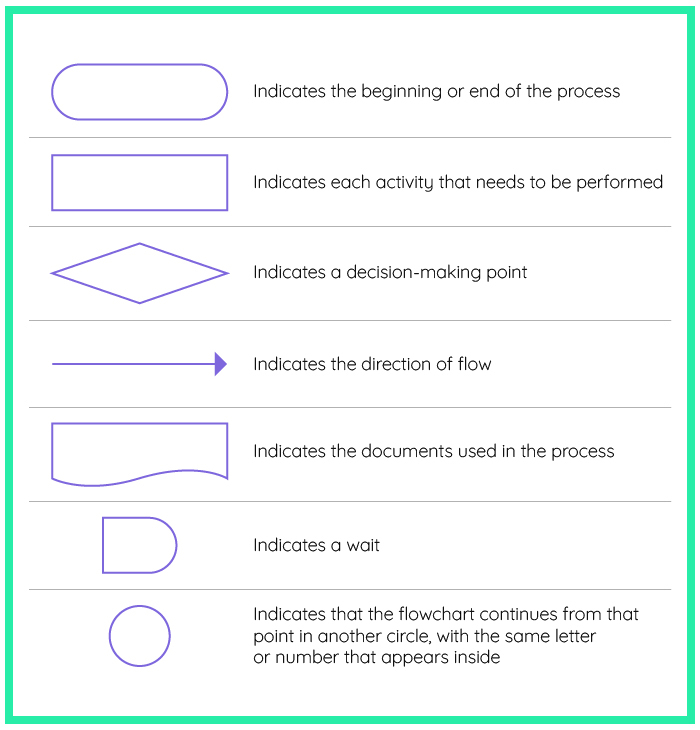 Horizontal flowchart
As we discussed earlier, the flowchart is a simple tool. To move forward and have a complete view, we use the horizontal flowchart, which adds more details in the process steps and works as a matrix.
This matrix is ​​divided into two axes:
The horizontal axis indicates the steps of the process;
The vertical axis shows the departments / people responsible for carrying out the tasks previously exposed.
The evolution is in just taking the first concept and expanding, also showing who the executors are and the exact moment when they are triggered.
Mapofluxogram
The Mapofluxogram is used to map assembly lines, for example. This is because it combines the design of a production line with the process flowchart, which we have seen before.
Thus, we can superimpose the flowchart on the plant where the processes take place and visualize, a little bit, the movement of materials.
Want an interesting use case? This type of Process Mapping is essential to identify possible risks and accidents.
BPMN (Business Process Model and Notation)
BPMN was created to standardize the process modeling system of a business. It serves as an international standard and is divided into 4 groups:
Skates: elements are used to group tasks performed by a given actor;
Artifacts: are information in additional texts to better describe the process;
Flow components: symbols for activities, entrances and exits;
Connection components: lines that connect the activities and components mentioned by us previously.
How does Process Mapping work? Understand the 4 essential steps
Now let's discuss a step by step guide so that you understand all the steps and are able to map processes in your business. There are 4 simple steps, shall we discuss?
1. Understand the process
At this stage, it is important that you establish what the target process will be and, above all, start to draw the process map, which is the graphical representation of all the activities that will compose that process.
At this time, it is essential to have the participation of all parties involved, especially professionals who work directly in the development of that process, so that we can have a systemic view of everything that happens.
In addition, it is interesting to use techniques for mapping, such as:
Workshops;
Interviews;
Document analysis;
Matrix SIPOC;
Flowchart;
among others.
2. Shape the process
Now that we understand the process, it is time to evaluate its functioning and effectiveness. It is at this point that we will study optimizations that will be carried out to obtain maximum efficiency with that process.
The modeling work, therefore, is essential to identify bottlenecks, points for improvement and avoid waste. It is also here that we reconcile issues such as the user journey and the process of continuous improvement.
3. Automate the process
Today, we no longer talk about Process Management without addressing automation. After modeling and mapping your internal processes, it is critical to identify whether your business can use tools to automate.
RPA (Robotic Process Automation) is also an automation option, in addition to Hyper-Automation. In addition, you can use BPMS (Business Process Management Suite) tools to establish activity lists, for example.
4. Monitor the process
To close, the monitoring activity is also key. After all, we must always focus on continuous improvement and ensure optimization so that the organization, in fact, gets the benefits.
Speaking of benefits, how about we address some of the main ones when it comes to Process Mapping? Read below!
What are the benefits of Process Mapping?
If you made it this far, you must be wondering what you have to gain by doing all this thorough analysis, right? So let's present the 4 main benefits of carrying out Process Mapping!
Cost reduction: after all, we can identify production bottlenecks and possible waste to eliminate them;
Results optimization: we can cut unnecessary points and work to make the process as clean as possible;
Standardization of work: since the mapping allows everyone in the organization to understand exactly what activities they will perform;
Control and monitoring: the mapping also allows us to monitor the processes to work on continuous improvement;
As you can see, all the work of Process Mapping is fundamental for us to reach new levels of excellence. Therefore, it must be one of the priorities in your business and it is indispensable to Process Management.
What did you think of our post today? Do you want to go even deeper into our content? Then access our library right now!
Back