21/07/2022 - By MJV Team
3 min read
LATAM General Manager from Zuru Toys on Consumer Behavior: "People are revisiting the value that motivates their purchases"
Kalinka Gonçalves, Latin American General Manager for ZURU Toys: "Especially now during the pandemic and after the pandemic, people are revisiting the values that motivate their purchases."
---
What is the future of retail? Certainly guided by changes in consumer behavior, shaped by the evolution of technology, our adaptation to digital and by the very increase in the standard of demand created by good experiences.
In the 2nd episode of TehcInnovation Talks, our interview series, Kalinka Gonçalves, gave us her thoughts on these and other topics. Take a look!
The Modern Tech-Savvy Customer
With the accelerated changes in habits and routines caused by Covid, retail brands have had to alter their customer journeys to keep up with consumers. Along with this, there is the fact that younger, more technologically adapted consumers are finally beginning to make up a significant portion of the market, resulting in companies needing to fulfill a range of user experiences.
Kalinka highlights this issue perfectly:
"We are living in a very interesting moment because we have different generations that are now shoppers and consumers. (…) So we have a generation that is very used to purchasing online. (…) At the same time, we have a generation that isn't. (…) They still value understanding the quality of products, to have an experience before purchasing, to touch the product."

Kalinka Gonçalves, Latam GM of Zuru Toys.
Phygital & the Online-to-Offline
While this dichotomy within the market is exasperated when focusing on younger and older generations, it isn't simply age-limited. For many consumers from both younger and older generations, some products are easier to purchase online. For example, if you're getting batteries, you don't really need to feel the product before purchasing it.
On the other hand, certain products such as fruit or clothing might require consumers to have hands-on experience with them before making a purchase decision. Kalinka emphasizes this question by adding another element to the issue: how developed your country of operation is.
In developing countries, things like returning products might require an extra financial investment from companies and consumers alike, making it harder for brands who rely on 100% digital marketplaces to find footing, even if online shopping has seen incredible growth in the last few years.
Kalinka believes that companies are beginning to see the value of physical stores once again: "I think that retailers are seeing the need to offer a way for the customer to experience the product, to feel it, touch it before making their purchase".
Related Content
Article – What is phygital and why it represents the evolution of user experience

Answering these challenges might be more straightforward than expected: by selling products in both physical and digital marketplaces — something known to the retail market today as phygital.
As Kalinka stated in our opening quote, consumers and brands alike are starting to revisit the values that motivate customers toward their final purchasing decision. The customer journey is something that has never been more important for retail brands. In a time when anyone can sell anything from anywhere, differentials are getting harder and harder to come by. Yet, somehow we live in a timeline where having a physical store can be that differential.
Kalinka believes that:
"The phygital world offers a more wholesome experience because [companies] can also communicate using these two different platforms."

Kalinka Gonçalves, Latam GM of Zuru Toys.
It's not about choosing which side of the future of retail to stand by, physical or digital. It's about offering your consumers the option of picking whatever suits their current needs.
The true champion of convenience is not just being able to purchase an item with a single click of a button. It's about having a choice. Providing consumers with autonomy within their customer journey doesn't only mean giving them the option of choosing what to buy and when, but also where to buy it.
Offering a phygital experience to your customers can significantly impact the way consumers positively view your brand. As Kalinka explains "[…] And through that, these brands can present themselves in a more consistent way to these different types of consumers".
Related Content
Webinar – The Future of Retail: Trends for 2022 & Beyond
But that's all we'll be sharing with you here, in this format. If you want to catch the full interview with Kalinka Gonçalves, you can find it on our YouTube channel here. Plus, check out other episodes from our Techinnovation Talks series for more in-depth interviews with industry experts.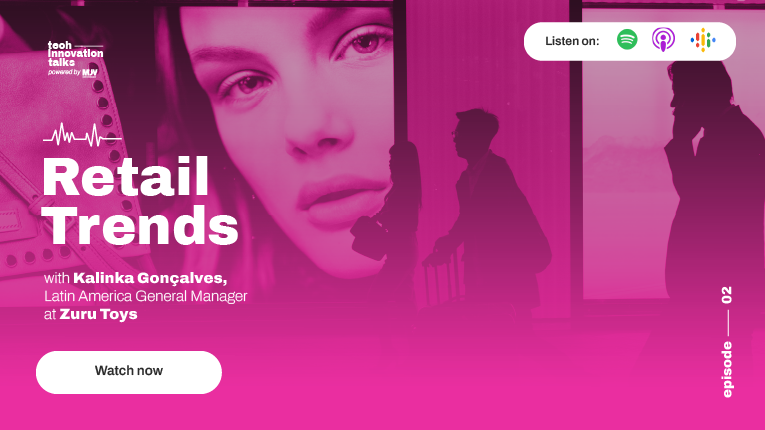 Back