16/07/2020 - By MJV Team
7 min read
Designing the Future of Key Account Management in Consumer Goods – a methodology for change
Covid-19 has brought about the kind of change that a few months from now would have been unthinkable. On the whole, the pandemic has reduced the average household spend whilst triggering an increased sense of collective health consciousness.
---
For consumer goods brands, they have seen a transformation in the way consumers buy, and what they buy. Not to mention the major disruption caused to supply chains, manufacturing lines and different markets across the globe, all with their unique nuances as to how Covid-19 is changing the way of life.
One thing is certain that we've already heard countless times before: we will not be going back to the world we once knew.

In the context of consumer goods brands and their relationship with business customers, the main vehicle to the consumer, what could this relationship look like in a Post-COVID World? The truth is that given the volatility and uncertainty of the times we're living in (and the fact that we are not psychic) no one really knows exactly how these B2B and B2C ecosystems will fare out.
But hold up – what if, regardless of the complexity of the situation, there was a methodology that could provide you with some sort of clarity, enabling you to draw insights from emerging trends and human behaviour, which you could leverage to adapt your strategy accordingly?
The good news is that it exists, (we've tried and tested it!) and we are delighted to share it with you. In the text below we present you our Futures Design Methodology in the context of Key Account Management.
The Role of Key Accounts in FMCG
The degree to which consumer goods brands have been able to minimise the negative impact of the pandemic on their business largely depends on where their paths to consumers are. For these brands, 'Key Accounts' constitute one of the main channels, from on-premise fast-food chains and cinemas to leading retailers and supermarkets.
In some cases, these customers can contribute up to a whopping 40-80% of the overall business revenue, so the importance of maintaining these relationships (especially during a pandemic) cannot be underestimated. This is arguably even more critical in maturer markets with a high customer concentration, where sales volume may be accounted for by a small handful of accounts, as opposed to emerging markets who tend to have a broader variety of accounts across their customer base.
Nevertheless, these relationships are highly strategic. We can describe them as almost 'symbiotic', where there is a somewhat mutual dependency to growing profit margins and achieving growth.

On the consumer goods brand side, the Key Accounts teams responsible for managing these strategic partnerships with major customers have a critical role to play in ensuring profitability and that both parties' needs and objectives are met. This role demands an in-depth understanding of all customer touchpoints, channels, their market, and, arguably most importantly, the end consumer. The insights that these teams bring back to the business are crucial; determining marketing and point of sale strategy, promotions, volume, revenue, profitability, and the list goes on.
How has Covid-19 disrupted Key Accounts management and relationships?
Consumer Behaviour
Perhaps the most immediate changes to the Key Accounts ecosystem is the change in consumer activity, as a result of closures across on-premise channels such as restaurant chains and cinemas. Throw into the mix an increased sense of anxiety about virus transmission, causing consumers to avoid crowded places such as supermarkets.
Add to that the financial hardship that most households are facing. What we see as a result is, particularly in a retail setting, a culmination of new behaviours: a sudden move towards online channels, stockpiling, the search for value for money and a shift to shopping locally (to name just a few).

Whether these shifts in behaviour end up being permanent or temporary, they have nevertheless triggered structural changes across business, for both consumer goods brands and their key accounts. In order to maintain these 'symbiotic' relationships, brands are striving to find new ways to deliver value to their customers and support them through the crisis; whilst safeguarding profit margins for both sides and providing an exceptional overall experience for the consumer.
In an ideal world, and as demonstrated by certain leaders from the industry, we're talking hyper-personalised customer treatment, digital-first service and sales models, customised production lines and speedy logistics and real-time tracking of consumer data from all angles.
A new B2B landscape
Across the B2B ecosystem, smaller businesses or those who have relied on physical consumer presence to operate may not weather the COVID storm. Globally, we are already witnessing a trend towards larger corporations acquiring smaller players to achieve scale or absorb new categories or capabilities. Einstein's quote "in the midst of every crisis, lies great opportunity," could not be more relevant. In the current climate, it is, therefore, fair to predict that Covid-19 may act as a catalyst for future mergers and acquisitions.
In a Key Accounts context, this potential scenario gives way to a more centralised landscape, with a shift towards a higher customer concentration and consequently these 'symbiotic' relationships. Some may argue that the nature of such relationships presents high-risk, especially in a retail context where we see strong growth of supermarket private labels competing with well-known consumer goods brands.
As a way of mitigating this risk, what we see is a growing investment in D2C strategies from brands, leveraging digital to open up new pathways to the consumer. Take AB Inbev for example, who last month started testing its own direct-to-consumer webshop, offering next-day delivery for five of its brands in response to closures of pubs and restaurants. (source)

On a similar note, we are seeing new business models and partnerships emerge across the consumer goods and Key Accounts ecosystem in an attempt to meet the fast-changing demands of consumers. Let's look at Asda in the UK for example, who just signed a partnership with Food Aggregator UberEats to provide a rapid delivery service-to-doorstep in as little as 30 minutes. (source)
The lack of physical presence and the remote effect
It goes without saying that the lack of 'physicality' has impacted Key Accounts Management. For field sales teams, for example, a day in the life would consist of regular customer visits, visualising store layouts, identifying alternative paths for brand activation, and reporting back to internal teams to implement new strategies for customers. In a remote world, we suspect that executive boards making these contractual decisions may be reluctant to approve an asset or operations-heavy transactions without an actual site visit.

For key account managers, at the core is relationship building with the customer, working in partnership to ensure the growth of product categories, conducting joint business planning to ensure there is a match between mutual objectives. Of course, prioritising the safety of employees comes first, and the remote effect has transformed these activities into virtual calling and virtual business planning. But does the lack of physical presence create barriers to how much data we are able to collect, to feedback to the business?
What does the Future of Key Account Management look like for FMCG
The key dominator here is not really knowing what the future holds and the fact that it's constantly changing, which makes it incredibly challenging to conduct business planning and joint action plans with customers, especially when both parties are focused on protecting the core business. But equally, innovation is critical for survival. We know that taking our eye off the ball isn't an option. So then, how do we stay agile and relevant to our customers and consumers? In such a volatile environment, how do we keep up with their fast-changing requirements and strategies, and the rapidly changing behaviour of consumers? How should we react internally in terms of our structure, building new channels and transforming our operating model? What new capabilities, processes, technologies and systems might this trigger a need for? What should be the future skills of the Key Account workforce that we need to invest in?

Although we are unable to look into a crystal ball and predict the future, the answer to these questions lies in a methodology called Futures Design.
Futures Design Methodology
Futures design calls on us to be proactive rather than reactive in times of volatility in a rapidly changing world. To be proactive, we need to anticipate the future by creating strategies built around future scenarios that consider different uncertainties and variables.
When we prepare for the future, we don't just simply build resistance and resilience – we rise better and stronger.
Future Scenarios can also be used as provocative stimuli to gain senior leadership support on discussions about potential adjustments that need to be made across Key Accounts in a Post-COVID world.

The scenarios are built using our 5-step Futures Design methodology:

The How
1. Research on signals and the trends taking place within your industry, customer and consumer ecosystem (Design Thinking) —– – The first stage of the methodology consists of using a design-driven methodology to dive deep into your Key Accounts context, through in-depth research with your internal Key Accounts teams and a selection of Key Accounts customers. This is where we gain insight into what has changed since Covid-19, and any trends/challenges which have arisen.
Tip: the more frequent your research, the more relevant and accurate your scenarios will be.

2. Identify the Drivers of Change – Drivers are research-based forces, such as trends and uncertainties, that alter future trajectories. They could be related to a global context and/or a specific industry context. Drivers should be evaluated in terms of relevance and how they may affect the specific context. At this point, your objective is synthesising the raw data from the research in order to converge insights, patterns and identify the key change drivers for your context. At MJV, we fuse the insights from your context with our own research: Life-After-COVID, where we identified 27 key emerging trends across 8 different macro- territories (Work, Health & Welfare, Politics & Government, Society & New Values, Macroeconomics, Education, Behaviour and Technology)

3. Forecasts – When combining signals and drivers, the result of this are forecasts: informed predictions for determining the direction of future trends. These forecasts are then used to create scenarios. The objective of this phase is to create enough forecasts to be able to cluster and segment to design the actual scenarios.
4. Scenarios – Scenarios are provocative stories based on future possibilities that are meant to challenge the status quo, our way of thinking. They help us see the bigger picture, indicating what could happen and how this would affect business. They are based on evidence of changes and trends already in course in the present. Scenarios serve as the basis for strategic and tactical decisions and actions. They indicate both expected and unexpected possibilities—more than that, they are meant to inform and provoke, not to predict.
5. Action plan & roadmap – With the scenarios defined, it's time to strategise and decide how you are going to react in response. Gathering key stakeholders together, collectively make decisions and prioritise your key actions for the immediate, short, mid and long-term.
Although it may feel like we've been in this pandemic time-vacuum for a while, there's no denying that there is still a great deal of uncertainty on the horizon. For both consumer goods brands and business customers, the impact of this lack of clarity over what the future looks like will understandably create anxiety, provoking a need to look within the business to fight for survival.
However, in the times we're living in, the answer to survival is likely to be found through joining forces with partners to reinvent and discover alternative paths to achieve growth. In this context, exploring new partnerships, especially in the digital ecosystem, and reflecting possible scenarios is the best way to prepare for the future, whatever it may be.
Do you want more content about the Future? Download our New-Normal Under Construction Research right now!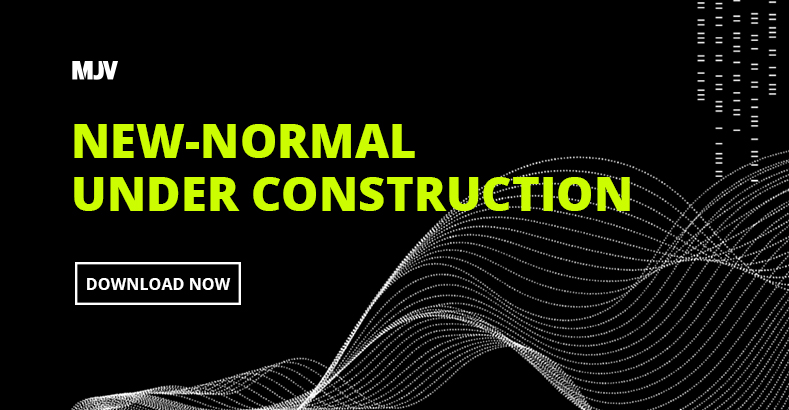 Back