05/10/2022 - By MJV Team
3 min read
MJV Digital Trends Infographic: The Digital Circle & Steps
Digital transformation is much more than ensuring your employees use Slack properly. It involves every step of the development process. It's time to take an in-depth look at digital. In order to accomplish this, we've written a Digital Trend Report for 2023. It covers Research, Design, Marketing, Software, Management, and Data. All are geared towards […]
---
Digital transformation is much more than ensuring your employees use Slack properly. It involves every step of the development process. It's time to take an in-depth look at digital.
In order to accomplish this, we've written a Digital Trend Report for 2023. It covers Research, Design, Marketing, Software, Management, and Data. All are geared towards trends and the current market context.
In this short article, we'll briefly cover each chapter so you can get a taste of what this digital trends report has to offer. Or you can jump to the end of the page and read our infographic. Let's begin!
1. Research
First up is Research. This chapter covers several topics, including how to decode your customers' necessities, where research is headed, Design Thinking's immersion phase, systems thinking, Jobs to be Done, and customer-centricity.
This chapter aims to help companies understand what role research has in today's market, as well as some good practices involving discovery and acquiring market insights. The important thing to remember is that research is one of, if not the most, crucial step in any digital strategy.
2. Customer Experience
The second chapter focuses on Customer Experience. Providing you with everything you need to know about CX. It covers topics related to understanding your customers, user-first mentality, CX strategy, customer experience management, the role of UX and UI, net promoter scores, and AI-driven CX.
The purpose of this chapter is to demonstrate how prioritizing customer experience can profoundly positively impact results. This is true for both products and services and is something that businesses within the current market context are dedicating entire teams and departments towards.
3. The Software Development Gap
The next chapter hones on software development, specifically related to the software development gap. It takes a look at the present IT landscape, team integration, how to narrow latency between teams, the tech talent shortage, and software development outsourcing.
This section also provides department-specific advice for Devs, Designers, and Marketers in the hopes of facilitating communication and collaboration between them. With every company having to push a more digital-oriented strategy, many businesses have slowed down or fallen behind. It'essentialnt to make sure your different departments are communicating properly, but it won't be worth anything if you don't properly invest in IT solutions.
4. Agile Transformation
The fourth chapter covers Agile Transformation. This section will mention topics including why Agile is taking over project management, change management, Agile change management , and what Agile is not, as well as management 3.0.

++ Content you may like: Infographic: Agile Change Management
Agile is not directly linked to the digital landscape, but companies are increasingly using Agile to manage their digital and IT projects and investments. This isn't some trendy fad, by the way, businesses all over the world are starting to notice the benefits of using Agile as their main management tool, and the results are clear.
5. Prototyping & Go-to-Market
Next, we move into Prototyping and Go-To-Market strategies. This portion of the report is about how companies can get the most out of carefully executing this final step in the development process, focusing on error culture, our go-to-market handbook, value propositions, concept testing, best practices for minimum viable products, and go-to-market strategies, as well as MJV's Fly or Die methodology for getting new products off the ground.
Much like Research, Prototyping is a stage many companies cut down on to speed up their product/service delivery. This makes Prototyping one of the most underestimated and under-respected stages of development. But it can seriously prevent product launch failures.
6. Big Data Strategy & Data Literacy
Last but not least, our final chapter in this report covers Data, which is quite possibly the most important aspect of the digital environment. It covers data quality, cluster analysis, qualitative data, data maturity, the internet of behavior, Big Data, and data visualization.
It should come as no surprise that digital strategies rely heavily on data as their main source of insights for leading decision-making. With so many companies hopping on the digital bandwagon for the first time, getting data right can be challenging. That's why it's so important to make sure your company is getting data collection and processing right.
Check out The Digital Circle Infographic
No more chit-chat, take a look at The Digital Circle & Steps: How to Deliver Digital for 2023 & Beyond!

---
This is just a small sample of what this massive report has to offer, but if you're still unsure about whether or not to read it, check out our report infographic. It offers a streamlined depiction of our Digital Trends Report for 2023, which you can find here.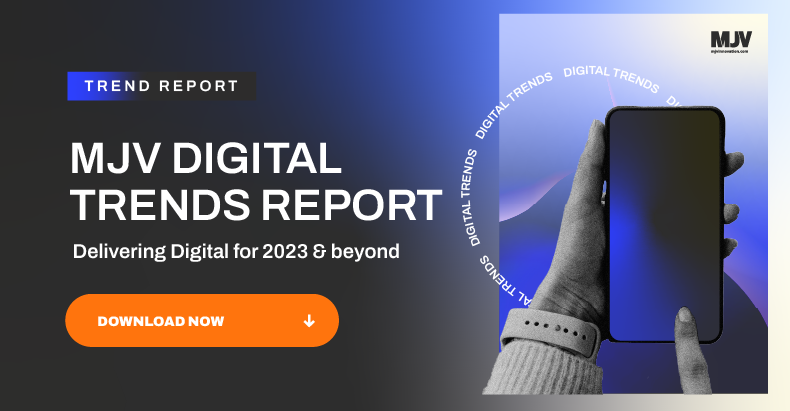 Back