22/11/2022 - By MJV Team
5 min read
Business Agility: Pivoting Towards Success
Business agility offers the combination of rising to new challenges and adjusting to market and internal business changes. Read on to explore the principles of business agility.
---
In the ever-changing digital environment, new technologies, and ever-changing consumer behavior require that organizations have a degree of efficiency to stay relevant. The goal? Fast adaptation to technology while producing quality products at a reduced cost.

For success, companies need to know when to pivot and move in a superior direction.
Business agility offers the combination of rising to new challenges and adjusting to market and internal business changes. Read on to explore the principles of business agility and how Agile practices can guide your company to become more flexible and competitive.
What it means to be Agile?
Adopting agile practices means conforming to agile values and principles and developing an agile mindset. The transformation to an agile mindset requires effort from all levels of business, requiring team members and C levels to "buy in". It also needs continuous effective governance.
To be considered Agile, an organization has to be able to:
• Adapt quickly to market changes — internally and externally
• Respond rapidly and flexibly to customer needs
• Adapt productively and cost-effectively without compromising quality
• Continuously be at a competitive advantage
What is Business Agility?
Business agility is the ability to make quick, sudden changes when required. It is a set of organizational capabilities, behaviors, and ways of working that allow businesses the freedom, flexibility, and resilience to achieve goals, independent of how a work environment might change or what the future holds. In uncertain moments of transition, business agility applies agile development principles to the entire organization, allowing companies to embrace change.
Agile development utilizes short development cycles and minimal overhead to facilitate rapid iteration and frequent improvements for products across the entire organization. This requires a holistic commitment.
Companies can compete and thrive in the digital age by quickly responding to market changes and emerging opportunities with innovative, digitally-enabled business solutions, as everything is moving at the speed of light in the digital age.
We are talking about changes in:
→ Customer desires
→ Competitive threats
→ Technology choices
→ Business expectations
→ Revenue opportunities
→ Workforce demands
To keep pace, companies need to innovate at speed and be ready to pivot and change direction when necessary. Luckily technology is here to lend a helping hand, with the likes of AI, Big Data, Cloud, and DevOps enabling enterprises to expand their product lines and modernize existing offerings.
For agility to occur at all levels of an organization, the following is necessary:
• Culture: organizations have a fluid culture at every level of the company.
• Leadership: that supports change in proactive and effective ways.
• Governance: policies and procedures allow room for agile responses.
The Principles of Business Agility
One of the best ways to support business agility in an organization is to reduce unnecessary policies and procedures. So it makes sense that no exact formula exists for business agility. There are, however, a few principles that we recommend:
• Transparency: Agility requires everyone in an organization to contribute ideas, enact change across appropriate levels, and move with leadership and fellow departments as pivots occur. Transparency and ongoing communication are crucial in facilitating these capabilities.

• Speed: In agile business organizations, perfection gives way to speed. Creating a Minimum Viable Product (MVP) and having a fast time to market are often two primary goals in many situations. Agile organizations can make needed adjustments to MVPs quickly.

• Flexibility: Agile organizations question traditions like set working hours and standard policies, creating more flexible operating procedures whenever possible.

• Empowerment: Proactive response to customer needs or problem-solving opportunities requires authorization. Team members at every level must have the ability — as well as the knowledge and training — to make decisions and enact change appropriate for their roles and levels.

• Customer focus: Agile organizations respond quickly to customer challenges. Customers need to be in mind at all levels of production or processes.
How Business Agility has an impact
When applied correctly, business agility does precisely what you'd imagine it would do — make a business more flexible, allowing for the establishment of advantages over its competitors through its ability to respond quickly to needed organizational pivots. But not only will it be quicker than its rivals, but actions taken will also be informed, innovative, and in tune with what customers want.
Business agility helps businesses to survive and thrive by inspiring and harnessing collaborative, creative ways of working towards clear goals. It tackles traditional obstacles to organizational change by making it easier for people to collaborate across departments, gain approval from leadership for suggested changes, and implement those improvements quickly.​​
While improving the customer or user experience is the primary motivation for many businesses implementing agile business models, the employee experience also counts. Enhanced communication between team members allows staff to identify concerns quickly while developing collaborative solutions or approaches to emerging opportunities.
3 Key Benefits of Business Agility
As already mentioned, Agile and business agility offer a plethora of benefits, but for us, three areas sum up the strengths of the process:
1. Challenge management
Organizations adopting business agility efficiently react and respond to marketplace changes while remaining customer-centric. The speed of these changes sets business agility apart from more traditional static methods.
2. Competitive advantage
Agile businesses can grab short-term opportunities before the competition. Its fail-fast principle mistakes and setbacks are learning experiences, meaning companies can take more calculated risks.
3. Cross-functional collaboration
Business agility helps break down organizational silos and foster creativity and innovative problem-solving thanks to the cross-pollination of ideas and a supportive environment.
Business Agility Frameworks
Many businesses think they are agile because their product development teams use agile principles, however, there is a big difference between being agile and adopting, and sticking to, agile frameworks.
A business agility framework aims to offer direction to businesses, especially during complex, uncertain situations. The idea is to help organizations survive and thrive in volatile, uncertain, complex, and, at times, ambiguous environments.
At the center of any agile framework is innovation. People make change happen, not processes, meaning the right people, at the right time, must engage in the right way. Clear, concise, customer-centric goals and the promotion of self-organized communications and collaboration needs to be enabled within teams.
The first step is to have the vision and goals to drive the response, and the best way to achieve this is via a business agility value stream.
Business Agility Value Stream
Refers to the sequence of steps required to respond quickly to an emerging business opportunity. A typical business agility value stream includes:
→ Define – Identification of a business opportunity
→ Investigate – Market research to find out what's valuable to users
→ Build – Creation of an MVP
→ Test – Delivery of MVP
→ React – Continue or pivot with the product depending on feedback
→ Develop – Learn, adapt and deliver value continuously
How to be Agile in Business
Agile development might mean that each product or project is realized using agile principles, but being agile across a business means a top-down, strategic process and some fundamental changes across the whole company.
Business agility means fluidity and flexibility, with staff and teams able to move seamlessly between roles. It's about making resources available wherever they are most needed at any one time. Trust is vital, as is the need for a stable underlying structure in place to allow teams to follow their instincts and be spontaneous and creative. Processes, governance, and infrastructure all have to exist to allow business agility to flourish.
Building these principles into your business requires consistent, effective communication, transparency into efforts at all levels, and an opportunity for employees to take ownership and be responsible for their areas. Whether you're transitioning into a more agile approach to business or looking for more efficient ways to streamline collaborative processes, MJV can assist you.
Here at MJV, we help organizations achieve business agility through our team of experienced Agile coaches; if you'd like to know more about our approach to Agile, reach out and speak to one of our team today.
Remember, you don't have to go it alone.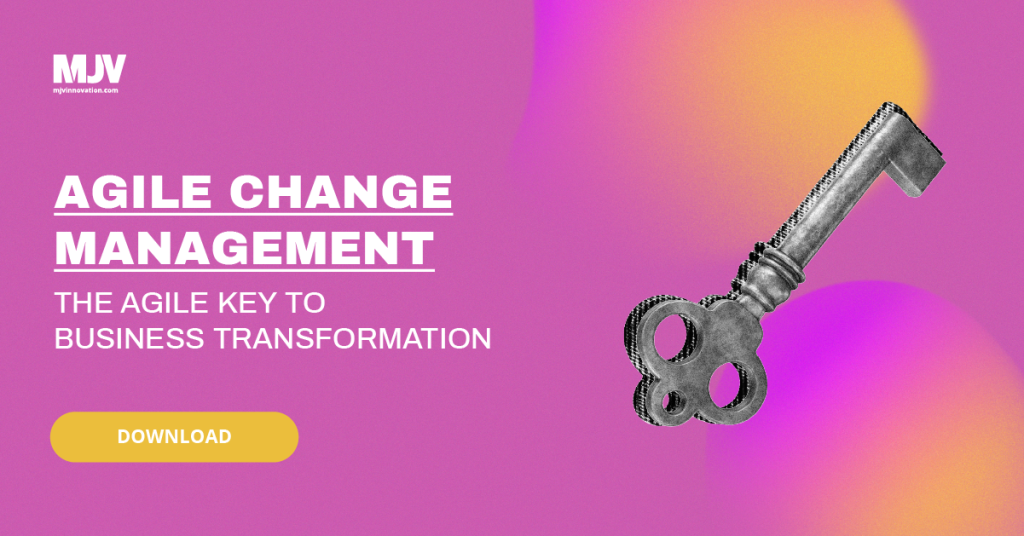 Back