21/07/2022 - By MJV Team
5 min read
Infographic – Design For Change: 7 Business Circularity Cases
We are very close to a point of no return regarding climate change. It's time to work to not only reduce our impact, but to reverse it and even restore ecosystems.
---
In the following article, you are going to find out 7 business examples of circularity, whether in models or business cases.
Important: All the information you'll see in this article is compiled into an infographic. No forms this time, ok? Click here and download now!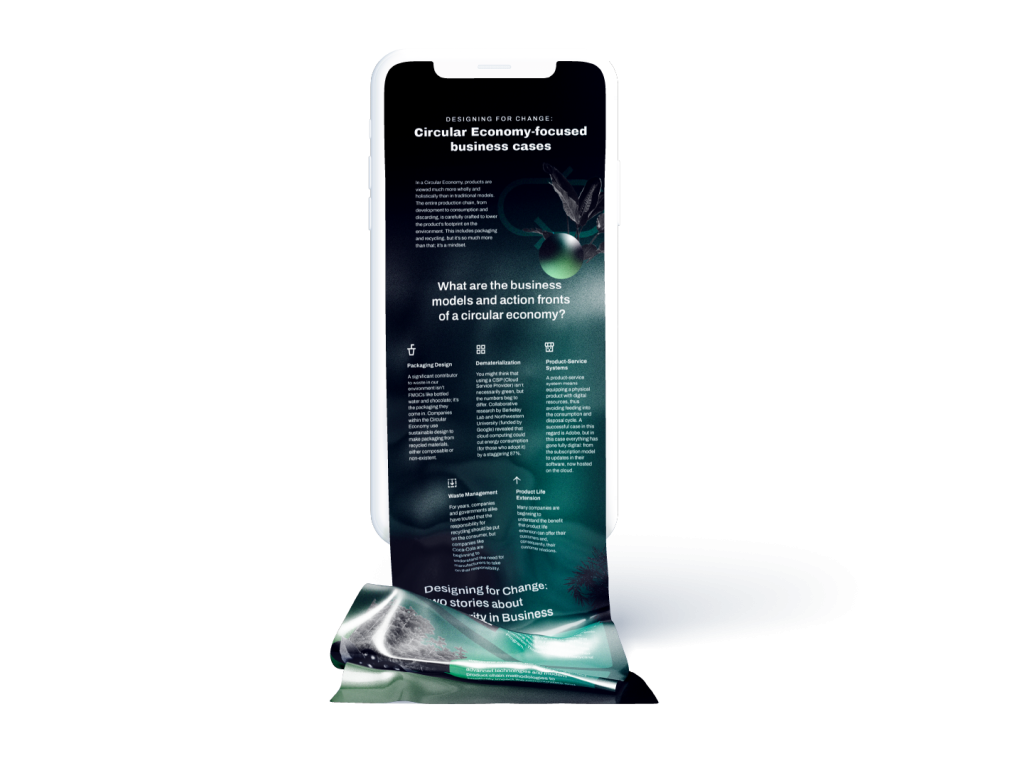 First, what is the Circular Economy?
In a Circular Economy, products (more specifically, their packaging) don't have a final destination, or at least not in the way that we usually think of it. Every piece of plastic, paper, and metal is designed to either decompose completely (where plants can use it as nutrients) or be repurposed into new products. This concept might just seem like recycling with extra steps, but it's far from it.
The Circular Economy is much more than simply recycling waste. It also incorporates circularity into product design, something that is unsurprisingly labeled "Circular Design." This means that products are developed with materials that are easier to recycle with greener processes. Companies are beginning to take on the responsibility of collecting and recycling waste.
Why would business invest in circularity?
The current linear system of extracting, manufacturing, using, and discarding has reached its limits due to the depletion of resources, raw materials, and the accumulation of waste. While this model might seem more practical for businesses, academic research and practical experiments point to quite the opposite. It seems that sustainability is also beneficial for your bottom line.
Executives are often reluctant to place sustainability at the core of corporate strategy, but consumers aren't. The average customer today is more concerned about environmental issues than ever before. The Consumer Sustainability Survey (2019) found that 72% of consumers buy more environmentally-friendly products than five years ago. While many disregard these statistics in favor of traditional practices, the trend has only shown signs of growth.
5 business models and action fronts of the Circular Economy
As stated earlier, circularity is much more than just recycling packaging, and it includes a laundry list of models and practices that push for greener, more sustainable business. See below: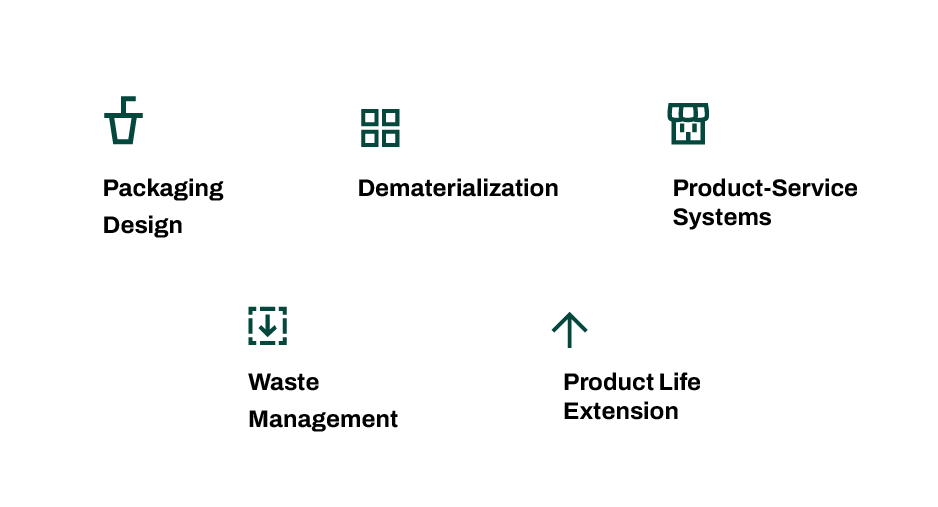 1. Packaging Design
A significant contributor to waste in our environment isn't FMGCs like bottled water and chocolate; it's the packaging they come in. Companies within the Circular Economy use sustainable design to make packaging from recycled materials, either composable or non-existent.
Take Danone, for example: As of 2018, 87% of Danone's total packaging (and 77% of its plastic packaging) was reusable, recyclable, or compostable. And at least 50% of its water volumes are sold in reusable jugs.
2. Dematerialization
Tech people, this is for you. You might think that using a CSP (Cloud Service Provider) isn't necessarily green, but the numbers beg to differ. Collaborative research by Berkeley Lab and Northwestern University (funded by Google) revealed that cloud computing could cut energy consumption by a staggering 87%.
They achieved this by moving storage and processing onto the cloud, a form of dematerialization. CSPs can attend multiple clients with the same hardware, meaning that companies share the systems that run their programs. Less hardware means less energy used and more efficiency.
3. Product-service systems
A product-service system means equipping a physical product with digital resources, thus avoiding feeding into the consumption and disposal cycle. A successful case in this regard is Adobe, but in this case everything has gone fully digital: from the subscription model to updates in their software, now hosted on the cloud.
4. Waste Management
Companies can have a significant impact on global sustainability by taking responsibility for their waste management. For years, companies and governments alike have touted that the responsibility for recycling should be put on the consumer, but companies like Coca-Cola are beginning to understand the need for manufacturers to take on that responsibility. The company has vowed to collect and recycle one bottle or can for each one sold by 2030.
5. Product Life Extension
It seems that every company is looking for ways to work planned obsolescence into their products. You might have heard of the; lightbulb lifetime conspiracy or certain phone companies slowing down their older models with software updates. But many companies are beginning to understand the benefit that product life extension can offer their customers and, consequently, their customer relations.

Caterpillar, for example, is one of the world's remanufacturing leaders. They have a strategy that focuses on extending a product's lifetime to its maximum capacity while helping its customers get the most out of their products.
Design For Change: two stories of business circularity
While we've already given you five examples of companies striving to incorporate circular practices into their daily operations, we thought it would be good to provide you with just a few more examples.
1. Patagonia's Common Threads Garment Recycling Program
Patagonia is a company that has built its clothing empire on outdoor and sportswear. It's no surprise then that the company has (and please forgive me for this terrible analogy) several fingers in a variety of sustainable pies.
The brand has continuously donated a cut of its profits to worthy environmental causes, switched its materials to organic cotton, invested in LEED Certified buildings and FSC Certification, and partnered with the "1% for the Planet" Organization. But perhaps their most exciting sustainability practice is their Common Threads Garment Recycling Program.
The program (launched in 2011) took back 45 tons of clothes from their customers for recycling and made 34 tons of new clothes. They encouraged consumers to repair and reuse their clothing rather than disposing of it. The company also focused on manufacturing higher-quality products with longer shelf life. Patagonia also offers a free customer repair service to extend their product lifespans for the clothes that wear out.
They also ran a marketing campaign titled "don't buy this jacket," which urged consumers not to make frivolous purchases if they already had a suitable solution at home. Patagonia is a rare example of a company that will actively put sustainability over profit, which is something desperately needed today.
2. Pro Natura's Smart Amazon Program by MJV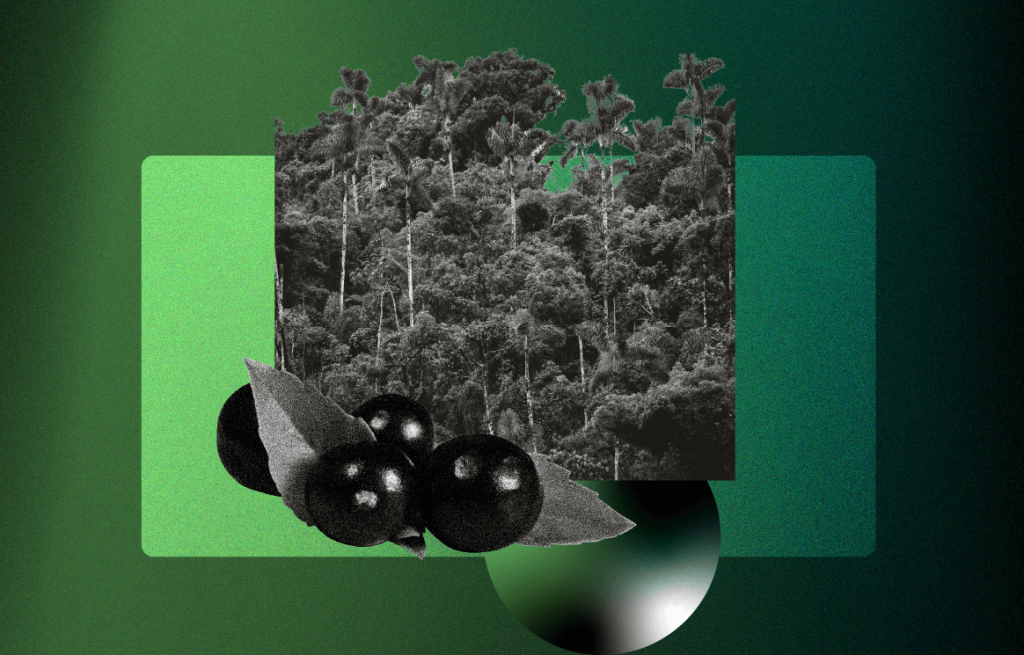 Pro Natura designed the Smart Amazon program to offer sustainable and innovative solutions for Amazon's most pressing sustainability issues, with the vision to create a proof of concept to be scaled up in other regions.
Within the program, the Pro Natura Smart project was created. Its goal is to use advanced technologies and modern product chain methodologies to positively impact the communities and ecosystem surrounding açaí production and replicate these results in different sectors and environments.
The challenge was to understand how to integrate technology into the açaí production chain in the community of Curralinho, at the heart of the Brazilian Amazon. The goal was to improve the quality of life of producers, facilitate their everyday work, and boost income and sustainability.
MJV was then called in to do an in-depth immersion with different community members to understand their context, pains, and needs. The açaí value chain was mapped and analyzed with circularity and sustainability in mind, allowing the team to identify several gaps within the current model and opportunities for improvement.
As a result of this work, Pro Natura Smart was able to plan an MVP (minimum viable product) for sustainable acai production aligned with the community's needs.
Content yoy may like
A little lost with all these concepts? You can find specific content about MVPs here and Proof of Concept here.
The takeways
Regardless of how you feel about the state of sustainable practices within businesses, companies across the globe (including many industry giants) are investing in sustainable transformation.
While we mostly touched on examples of circularity within businesses, the benefits of 'going green' are staggering. And studies show that these benefits will only increase as time goes on. Getting in on environmentally friendly practices now will ensure your place within the market of the future.
Interested in learning more about sustainability practices and circularity? Download our ebook Cradle to Cradle: The Role of Design Thinking and Product Design in Circularity.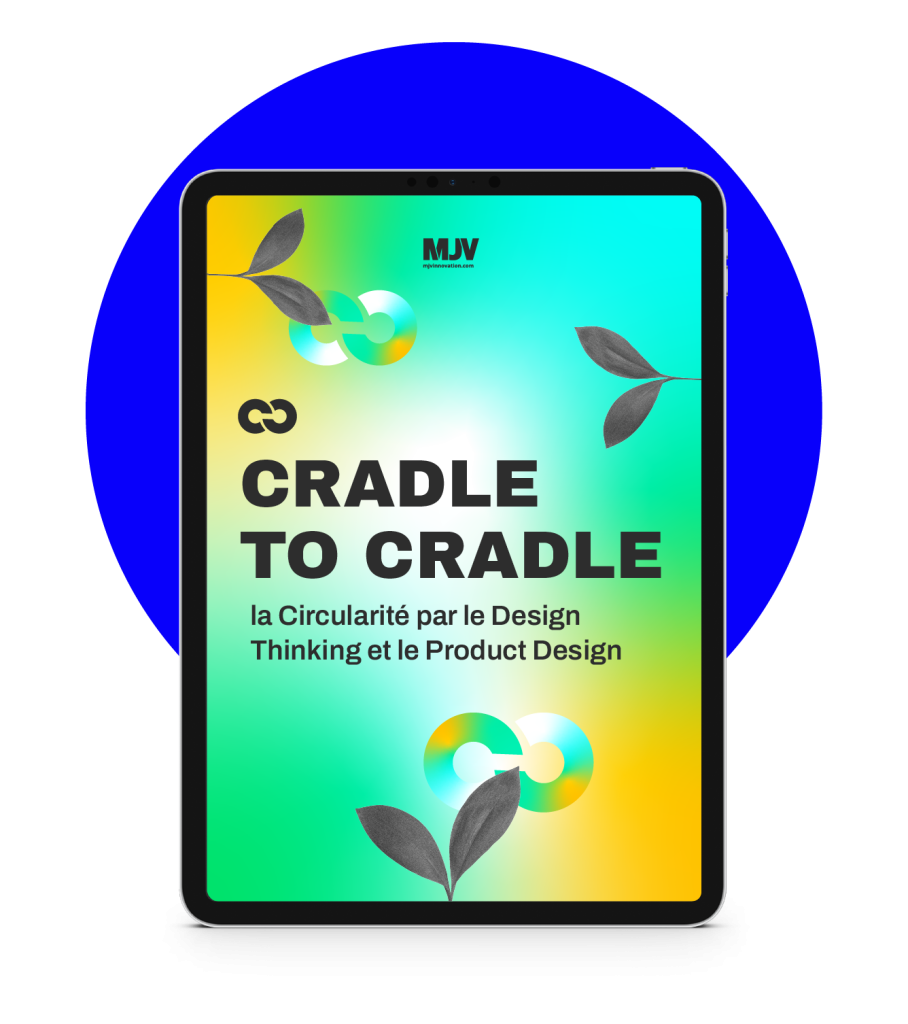 Back