23/03/2023 - By MJV Team
4 min read
5 Business Strategy Sprint Outcomes
Find out the definitive solution for converting your main challenge into a business asset in just five weeks.
---
In this article, we'll break down the purpose, promises, and processes of the Business Strategy Sprint, as well as bring to the table five different outcomes you can expect to gain from it.

Let's start by talking about what it is and what to expect from it in the first place.
What is a Business Strategy Sprint?
MJV's Business Strategy Sprint is a culmination of our work with various clients, both big and small, from a variety of different industries. We have distilled an innovation process that promises to push individuals and teams toward desirable, feasible, and viable solutions, capable of solving different business challenges in five weeks.
The Sprint revolves around the use of Design Thinking and Agile methodologies in order to empower the most important asset that companies have: the people who work for them. We believe that there is no such thing as brilliant ideas, only brilliant people.
What to expect from our Strategy Sprint
In the world of business there are huge and complex challenges that companies face on a regular basis. They are industry-defining questions. These kinds of challenges require months of immersion, exploration, R&D, and a significant amount of effort from a large number of individuals.

The Business Strategy Sprint is designed to take advantage of innovation processes, agile structures, and the streamlined efficiency of lean in order to help you solve your business challenges in an accelerated timeframe.

But what else can you expect to get out of this Sprint? Take a look at some of the challenges we address in our Business Strategy Sprint:
• Defining a department's strategic plan
• Mapping out the gaps within a specific process
• Building a roadmap for strategic actions
• Generating ideas for a specific problem
• Testing out a strategic hypothesis
Through the use of Design Thinking for context immersion and customer-centricity, Lean for fast testing, validation, and iteration, and Agile for structure and process organization, the Business Strategy Sprint can help your team turn their challenges into solutions in an accelerated five-week cycle.
While the overall return on investment will change from company to company and from challenge to challenge, we can say that there are a few things you can expect the Sprint to provide:
Meaninfgul Experiences
With an immersion phase, we can guarantee that the solutions derived from the sprint will at the very least be adherent to the needs and desires of your customers. This is one of the most important ingredients to get right when it comes to designing meaningful experiences.
Saving money and time
Every year millions of dollars are wasted on business solutions that fail. Why? Because most business leaders manage innovation as a product of chance. Creating solutions through a problem-solving, user-centric approach can lead your team to more accurate solutions that will accelerate your time-to-market and protect your profit margin.
Reduce cost and simplify processes
Taking a fresh look at your strategies and processes is an incredibly effective way of finding inefficiencies, redundancies, and opportunities for improvement. All of which can help you save time and money.
Implement sustainable and high-value solutions
We here at MJV have made a commitment to provide a positive impact on the environment and our society. Not only due to the fact that we truly care about these issues, but it's no surprise that customers do as well.
Competitive advantage
All of these factors combined can total up to quite a competitive advantage. If there's one thing that you can expect from this Sprint, it's that you'll walk away from it with a challenge solved, and a strong solution in hand.
5 Business Strategy Sprint Outcomes
All the benefits that come from innovation in general aren't outcomes that MJV can take complete credit for. What we can take credit for is the fact that our Business Strategy Sprint can transform your challenges into solutions.

Strategy isn't something that shows up just for execution and then goes back into a dusty drawer waiting to be used again. It is a roadmap that plans out how future decisions, investments, and processes will play out.

This is done through a smooth and immersive experience designed for your leadership team and customized to your specific needs. We pride ourselves on getting to intimately know our client's needs and challenges through a structured immersion process.

As we've said before, the purpose of this Sprint is to empower the people within your company. The Business Strategy Sprint employs a people-first approach that aims to create an environment where ideas can freely flow, without hindrance or judgment.
This is one of the key principles behind Design Thinking and entails much more than just a quiet room and some brain food. The entire experience is tailored to make thinking easy and to pull innovation to the surface.

One of the main issues tackled within these Strategy Sprints is the development and prototyping of specific products, services, and business models. This isn't limited to fresh ideas and can also extend to previously existing ones as well.
This outcome is distilled from an iterative method that focuses on user-centricity and the application of an MVP (minimum viable product), in order to reach a functional prototype as quickly as possible. This is the basis of our "fail fast" mindset.

Making something from scratch is always a good opportunity for innovation, but redesigning or improving already existing processes and journeys can be a goldmine. One of the outcomes of the Business Strategy Sprint is a map of all the gaps within current journeys and processes.
The reason this outcome is particularly fruitful is due to the fact that your team is already incredibly knowledgeable on the subject.

This is particularly useful when it comes to product launches. We mentioned before the benefits of testing and iteration on products set for launch, and this is precisely that process.
The goal here is to test out these new products and services with real audiences before going to market. This can provide you with not only insights into how to straighten out these new offerings, but can also lead to a tangent innovation you never even thought about.
The Journey

Hire MJV's Innovation Workshop
When it comes to making strategic decisions about your business, the fastest and most efficient way to reach them is by dedicating time and effort towards discussing strategy with your team. This same outcome can be reached through agile and innovative methods, obtaining results in a more objective, assertive way and many times faster than traditional processes.
If you're looking to invest in your company and employees' ability to innovate and reach prioritized and validated solutions, reach out to us. The most salient piece of advice that we can give you is that you don't have to go it alone. Go far, with MJV.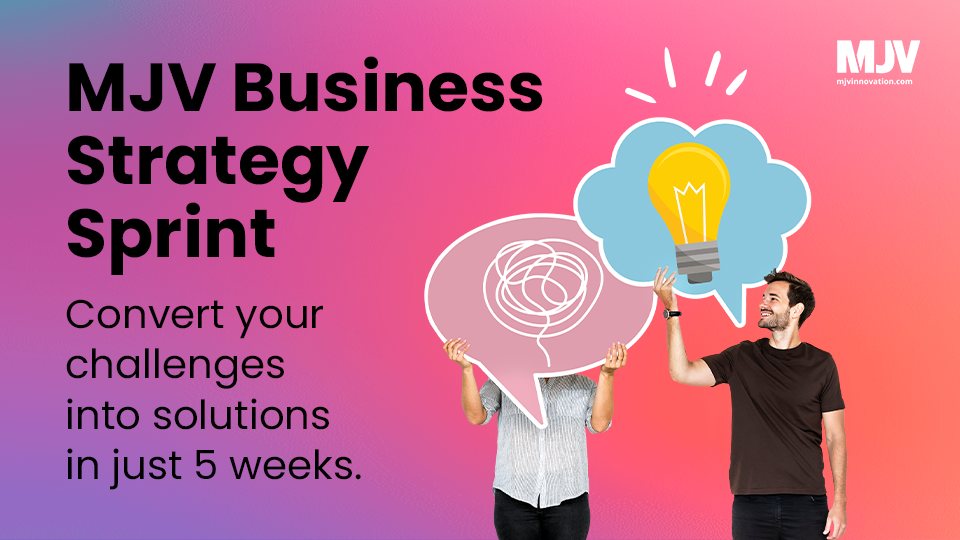 Back