30/06/2022 - By MJV Team
4 min read
Business Design: Making Human-Centered Innovation Succeed
Business design is a holistic approach to developing businesses that lie at the intersection between desirability, feasibility, and viability. It is about stoning businesses like diamonds to reach the right cut.
---
How do you plan the scope of your solutions? Do they solve a real user need? Is the result a win-win relationship between your company and the customers? If these doubts permeate your thinking, it's time for us to introduce you the Business Design.
Markets and consumers continue to change. Yes, we know, a million articles start like this. Still, this change is real and requires businesses to develop new ways to remain competitive and provide the best possible solution.

A solution that is desirable, feasible, and viable for both companies, markets, and audience.

In the last few years, we have seen an exponentially increasing focus on design (thinking, management, experience, service) and there has been a substantial buzz around the use of Business Design, with many experts in particular pointing it toward as the next big thing.

But what do we mean by Business Design? How can it provide answers for those searching for an evergreen business? Can it be used in tandem with Service Design or Design Thinking? In the following blog, we will delve into these very questions.
First things first: What is Business Design?
Business Design is defined as: "a way of operating that combines the tools of business thinkers, analysts, and strategists with the methods and mindsets of design". It helps organizations develop solutions with a customer-centric focus.
It combines tools from business professionals and allows organizations to solve significant business challenges by applying creative thinking processes to foster and promote innovation and help organizations grow.

Business Design is composed of 3 basic premises when creating a product, service, or solution:
1. it must be desirable
2. it must be feasible
3. it must be viable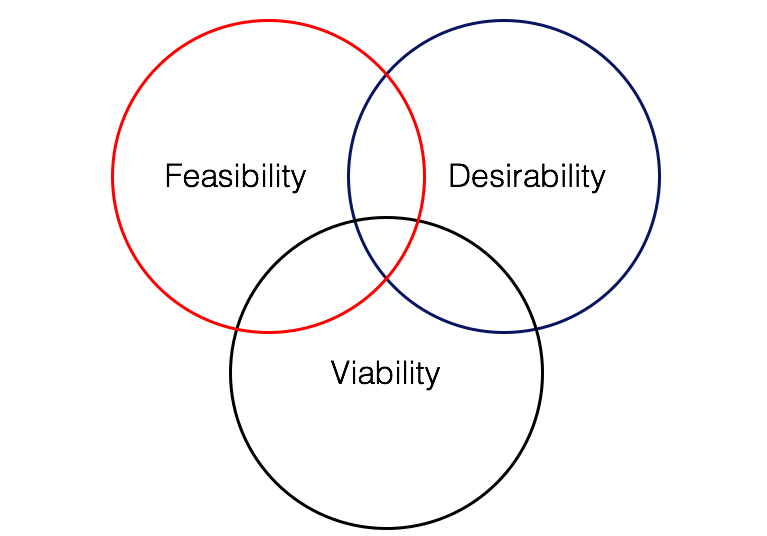 Some modern interpretations of this intersection relate each of these with a macro attribute of the business. See:
Desirable means the human factor; it's desirable by users/customers. Feasibility represents the technological factor; there is technology to create the solution. And viable refers to the return of investment for business; the solution generates value and pays off.
How does Business Design work?
The primary functions of Business Design are:

• To frame, direct, and inform the design process with a business focus, ensuring the design solves the problems.

• To explain the design solutions using a familiar language, so stakeholders understand their value and impact.

• To apply human-centered methodologies to strengthen design business and financial components to create viable services and products.
Researchers can use Business design to discover demand and identify a unique value proposition. When we talk about Service Design, for example, the focus is on desirability — designing services, systems, and processes to deliver an excellent customer experience.
Ultimately, in every industry, the customers decide whether to purchase or invest in something. Due to this, businesses across the globe are zooming in on creating products and services with a user-centric approach, and Business Design is one of the freshest ways to do just that.
Desirable, feasible & viable: stone your business like a diamond
Okay, here's a little storytelling.
In 1866, already in contemporary France, an artistic-literary movement called Parnasse Contemporain emerged. The line that best describes it best is "the art for art's sake".
In other words, Parnasse Contemporain aimed at an artistic production that "should not be useful, but pure, alien and erudite […] without dealing with the problems of reality".
Does it sound somehow like some innovation services RFP you've come across? Because talking about innovation in business was once pretty much like this.
At MJV, we always do the exercise of asking ourselves what innovation is or means. Usual answers include adjustments, iteration, and competitive differences.
But we also ask ourselves what comes after innovation.
Well, with the dawn of Business Design, as well as the assimilation of strategic concepts such as feasibility and return on investment to holistic problem-solving methods, this scenario has changed.
It is now clear that innovation must strike a balance between cash in, cash out and the risks the solution can address.
What about Design Management? Yes, it also plays its role in the process — as does the Design Thinking method and the Double Diamond framework.
But more than managing innovation, we mean disseminating the 'design thinking' throughout the organization (and consolidating it in every solution that comes from its departments and teams). A kind of Business Design Thinking.
And for that, the way you are building your business matters.
Why is Business Design the next big thing?
Traditionally, design principles and methods have been utilized by companies to create the value propositions people want. But for this very reason, many people still struggle to see design as anything but fancy products or sexy visual content.
The first thing we need to say here is that the word "design" needs to be disassociated from the aesthetic element. This advice may seem obvious to you. But words carry different meanings in different cultures.
For example, in our Innovation report, we prefer to use the word "innovation" instead of "design." The idea was precisely to dissociate the terms, avoid people's cognitive bias and try to make them give us a chance. The results? The number of downloads was a success.
But the truth is that design can take many businesses a long, long way. And as a matter of fact, there has been a growing interest in applying design methodologies in the business world. Not just end products or services, but the overall business model, leading us neatly into the path of Business Design.
In essence, Business Design is a human-centered approach that helps practitioners design, test, and validate business models. Due to its human-centricity, this approach ensures that every business model component can positively affect the end customer while delivering solid, sustainable business value for the organization.
At the end of the day, the idea is to merge both the design approach and mindset with business tools and methodologies to solve organizational challenges.
Thanks to Business Design, companies can strategize over value creation, overvalue delivery, and value capture while mapping related assumptions and testing them before even entering the market. This comes together with a set of tools that can work well for both established organizations and growing startups.
The Takeways
Because of its human-centered outlook, Business Design is an exciting, new, innovative approach to building solid business models. Furthermore, its tools and processes can be easily applied to tackle complex social problems.
Most businesses exist and make revenue and eventually profit from their current form of operations, but they won't remain relevant and sustainable long term without a human-centered approach?
Business Design offers a framework for a strong and sustainable outlook. Its systematic approach allows testing of the viability of new ideas with few resources.
Business Design is all about seeing things from a fresh perspective, through another lens to enable managers, strategists, and designers to think more creatively to develop human-centered new ideas, to find the diamonds in the rough.
That brings us to the end of another insightful tech and innovation-focused blog post, but if you'd like us to continue the conversation on Business Design or any other related topic, reach out to us and book a conversation.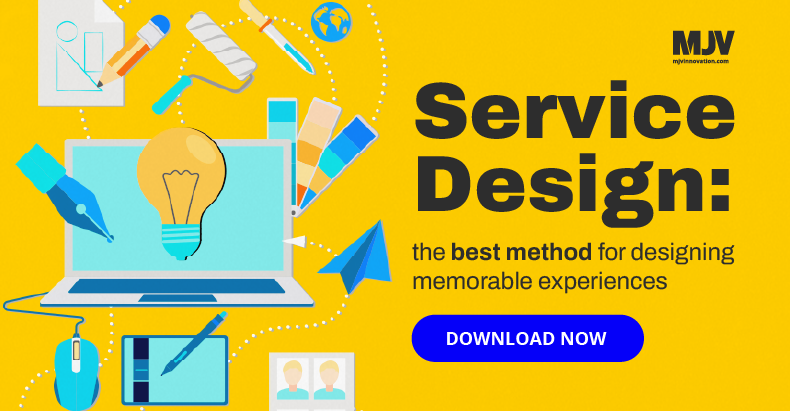 Back