20/10/2021 - By MJV Team
3 min read
4 RPA Cases To Get You Inspired
A special post with some successful RPA Cases so you can better understand how to improve processes with this solution.
---
One thing leads to another. The need for Digital Transformation leads us to automation, which, in turn, leads us to RPA (Robotic Process Automation). For this reason, we from MJV think it is a good idea to introduce you to 4 RPA cases to get you inspired for the transformation of your area.

We're no strangers to robotic process automation, so today, we thought we'd write a special post about four successful MJV RPA cases, so you can better understand how this implementation process works and what it can do for you!
1. Money Laundering Prevention
Challenge
One of the largest insurance companies in Latin America approached MJV with a specific demand: the prevention of money laundering.
The process used to require a lot of manual work from the company's Internal Controls and Compliance area. This held analysts back on operational tasks without the ability to complete other equally essential processes.
In addition, the input volume was greater than the daily treatment capacity, which caused a never-ending pileup of work.
Solution
We first gained an understanding of the entire process (as is) and brought improvements through automation. We worked on continuously improving the automated bot until it ran smoothly, with zero bugs. We finalized the development with copious testing, done alongside the Product Owner, remembering to keep user feedback present throughout the project.
Results
We monitored the result of RPA implementation. Once we realized that the program was running without errors, the analysts were free for new tasks.
19,000 hours/month of automation: considering the time of daily entry + Backlog;
Removal of the need to hire three new employees;
Freed five analysts for new, more complex activities.
2. Internal Controls and Compliance
Challenge
Another insurance company contacted us, this time with the challenge of automating repetitive processes, also within the area of ​​Internal Controls and Compliance. Again, these processes were being done manually by analysts who could not handle the sheer volume of tasks on their own, causing another accumulation of work.
Solution
We created a robot to automate three key processes to assist the company's Internal Controls and Compliance area:
SUSEP Access Control;
Trade Registration;
Regulatory demands and regulatory bodies (Notification and Collection).
It took three months of creating process improvements, standardizing documents, and developing the robot and its manuals.
Result
With the delivery of the program, processes were kept up to date, with standardized recurrence and zero errors in operations. In addition to:
800 hours/month of automation;
Reduction of fines due to human error.
3. Internal Controls and Compliance II
Challenge
In this case, we were contacted by a Digital Bank. Our task was the process of automating new email registration for users (changing their login email).
To make the change before, analysts had to stop dealing with more complex issues just to manually alter user emails within the system.
Solution
To address customer dissatisfaction with the waiting period, we created a robot to perform partial automation in the registration process. MJV worked for a month to carry out the automation installation, improve processes, create standardization documents, and develop operational manuals.
Result
With the delivery of our program, we were able to completely zero their backlog in just 13 days, allowing analysts to carry out other, more critical tasks freely.
1,250 hours/month of automation;
Freeing up two analysts;
Eliminating the need to hire five new analysts.
4. Assessment in the Accounting Area
Challenge
The accounting area of ​​a large insurance company approached MJV with the need to improve process and data management. These processes are old and have poor alignment with business and adherence rules.
Solution
We used the Design Thinking methodology to understand user pains, get to know the processes in-depth, and suggest improvements that could be implemented with RPA.
Result
We were able to detail all 40 workflows (as is) within accounting. From there, we automated each process, achieving:
Increased productivity;
Decrease in errors and human failures;
Cost reduction;
Greater operation assertiveness;
Optimization of employees' time, making them available for strategic issues
We hope that these RPA Cases have helped you visualize the benefits this type of solution can bring to your business. Feel like implementing this type of automation? So get in touch with us and find out how MJV can help you!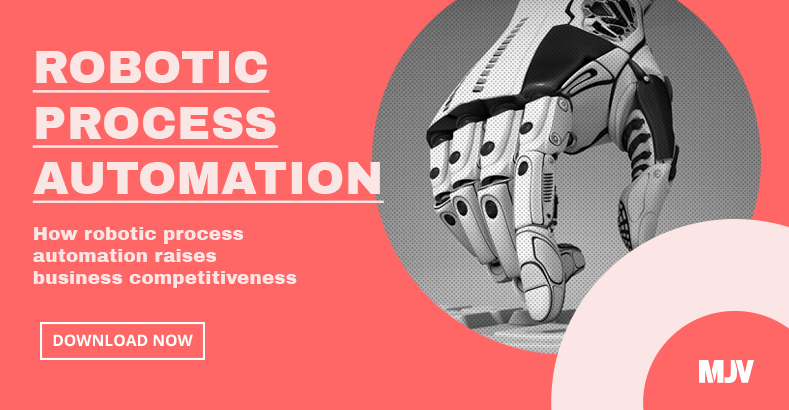 Back