04/01/2023 - By MJV Team
3 min read
Three compelling reasons to visit MJV at NRF 2023: Retail's Big Show
With the biggest retail event of the year on the horizon, it's time to go over MJV's participation at NRF 2023.
---
Read on to learn a little more about the event, our participation, and three reasons to come and visit us at the event.
About NRF 2023
NRF 2023: Retail's Big Show is the world's leading annual retail event, with around 40,000 on-site retail specialists from almost 100 countries. The event will take place at the Jacob K. Javits Convention Center in New York City, and promises an incredible experience for all involved.
Kick Off
• The Opening Party : January, 14
• Conference Expo: January 15-17
NRF offers breakthrough insights to anyone and everyone in the retail industry. The leading event for retail offers 3 days consisting of:

MJV at NRF
MJV will have a kiosk stand at NRF 2023, representing an outstanding opportunity for us to network, meet, and collaboratively innovate; something we can't wait to do.
But for those attending Retail's Big Show, what makes us stand out from all the other "40,000 on-site retail specialists?" Why should you make your way over to our booth?
1. MJV's retail know-how
With 25 years of experience operating in the retail sector, MJV has been there and bought the t-shirt. In particular, we've seen the industry transform in the digital age. With our expertise in putting together more than 500 retail & CPG projects, we are confident that we can unlock the answer no matter what your retail challenge is. We pride ourselves on delivering cutting-edge retail and CPG solutions.

Here are some of the industry challenges we have recently been putting together solutions for:
Customer Segmentation & Personalization
Selling Direct To Consumers & Going B2B2C
ESG Transformation & Waste Management
Omnichannel Strategies
Fulfillment & Supply Chain Logistics
Frictionless Checkout

2. Opportunity to meet our expert team
Led by our charismatic leader, CEO Mauricio Vianna, we are bringing our best and brightest to NRF 2023. Mauricio alone brings vast digital and tech knowledge, flanked by two of MJV's top directors, Bruna Lopes (Head of Innovation USA) and Ricardo Sepulveda (Chief Technology Officer).
With her background in design and innovation, Bruna brings that all-important creative flair and know-how to our NRF team. She's also worked on several projects for some of the world's biggest FMCG companies.
Ricardo, on the other hand, is all about tech, innovation, and gadgets; he has his eye on all of the latest innovations to hit the retail industry. And if you are looking for someone with their finger on the pulse of data, he's your man.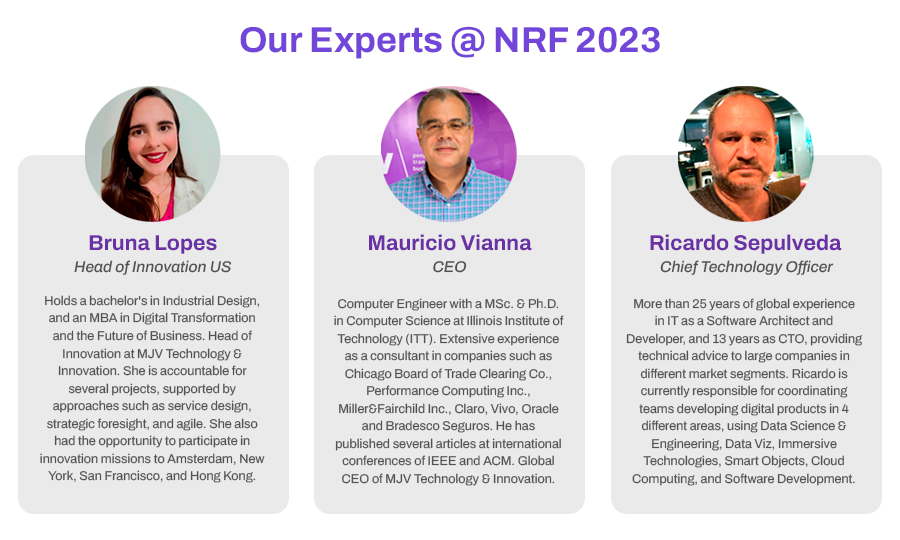 3. MJV Giveaways + Sponsorship & Content
Giveaway
Our NRF 2023 giveaways and freebies are twofold. To kick things off, the first 100 people to visit us at our booth will receive a free physical copy of our Agile Companies: A Practical Guide book. Our comprehensive Agile guide goes over every facet of the methodology in detail, including best implementation practices.
Second, we'll be hosting a prize draw, where you could win an exclusive strategic foresight workshop. By simply entering the competition alone, you'll already be helping the environment. As for the first 250 subscriptions, we will sponsor a tree to be planted in the Amazon Rainforest in your name.
To get involved in this exciting initiative, visit us at our booth: Booth: #734, Level 1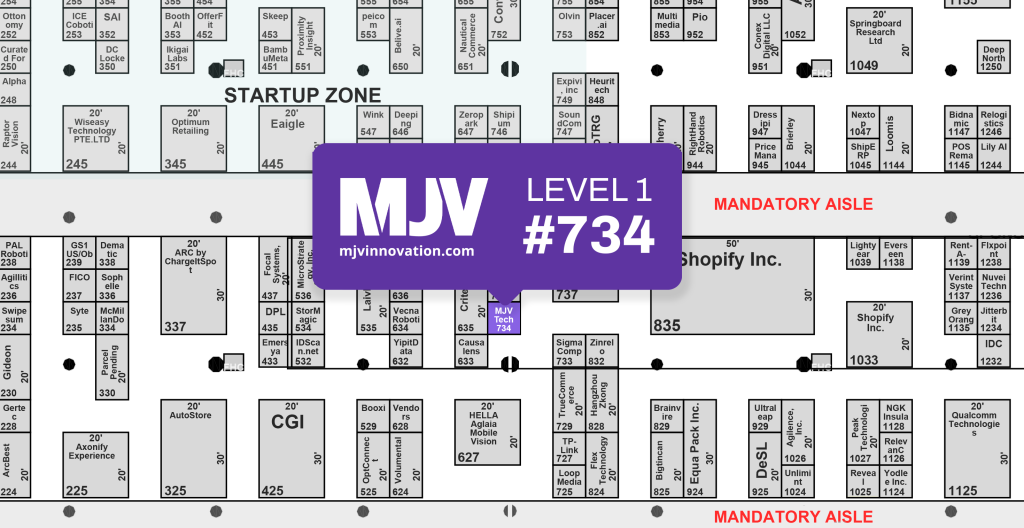 Sponsorship
But that's not all; we've also teamed up with NRF to sponsor one of their tours:
The Big Show Official Brooklyn/Williamsburg Tour, where participants will visit innovative retail stores in Williamsburg to experience the latest industry trends. For more information or if you are interested in joining the tour, visit Big Show's Official Brooklyn Tour branding.
Finally, we will also be bringing exclusive content and offers to NRF 2023. Material that was created by mapping and analysis of the main tendencies for the future of retail:
How to unlock new revenue opportunities;
How to become more cutting-edge and accelerate innovation;
How to reduce costs via sustainable strategies.
Interact with us at NRF 2023!
So there you have it, an overview of our participation in the most exciting retail extravaganza of the year, and now we pass the ball over to you. If you are going to the event, come and see us!
Our MJV team would love to connect with you in person. We are open to discussion and networking and are keen to help solve your business challenges.
So again, come and visit our booth for exclusive content (but be quick to take advantage of our special MJV giveaways). Join us in New York City in January at NRF 2023: Retail's Big Show! We can't wait to share with you all our top retail-related insights.
---
NRF 2023 is just around the corner! In the meantime, don't forget to check out our new release: The Multiverse of CPG & Retail Trend Report. There, you'll envision what's next in terms of innovation, technology, and the customer experience in several areas of consumer goods, as well as find out the answers to some of the biggest challenges in the sector. Donwload now!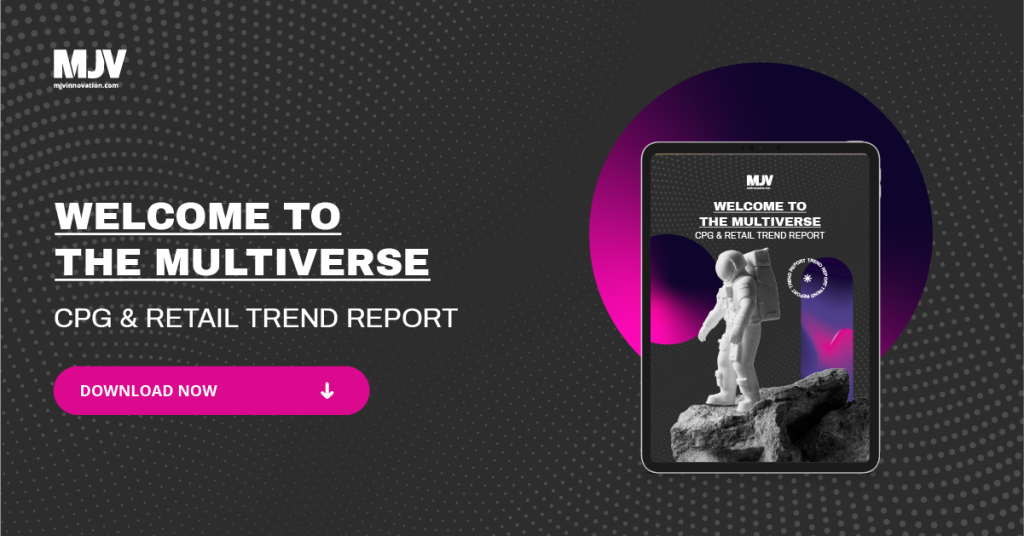 Back