28/12/2022 - By MJV Team
4 min read
O2O: Turning Online Visitors Into Offline Shoppers
Online-to-offline is a trend that puts together the benefits of e-commerce and brick-and-mortar through several strategies. In this article, you'll find out some of them — and how O2O helping businesses to turn online traffic into offline purchases.
---
Until recently, we thought that the future of commerce would all occur online. Even with the mass online exodus that took place during the pandemic, the reality is that customers are still putting time, effort, and money into visiting and shopping offline.
Read the article, understand how O2O commerce is helping online and offline businesses take advantage of the green pastures of the other side, and find out if it's for you.
What is O2O commerce?
O2O stands for Online-to-Offline, a business strategy that is being implemented increasingly in modern retail stores. The idea is to use online channels to incentivize customers to make offline purchases at physical stores.
Some of you might be wondering if it works the other way around. We mean: "If O2O stands for Online-to-Offline, can it also be used for Offline-to-Online purchases as well?" The answer is: yes, it can.

In fact, Amazon's recent acquisition of WholeFoods is doing just that. The e-commerce giant is hoping that people who frequent brick-and-mortar WholeFoods stores will be enticed into finding whatever they can't in person online instead.
The basic principle can be seen as an omnichannel strategy that seeks to locate new customers through emails, online ads, or social media and encourage them to visit local physical stores. This includes engagement through actions like curb-side pick-up, in-store pickup/returns, or just straight-up buying the product in person.
Amazon and other major digital retailers are fully aware of the benefits of brick-and-mortar — and that's why they're going offline. But stay tuned: the migration from OFF to ON is almost mandatory; it's about survival. The migration from ON to OFF tends to be optional, but yes, it can make a difference.
What are the benefits of Online-to-Offline?
The benefits of an O2O strategy are quintessentially tied to the benefits that physical stores hold over online shopping — we are talking about the likes of online touchpoints that offer a phygital experience.
But let's keep things simple and streamlined. Here is a list of all the benefits an O2O strategy can offer:
• Better in-store experiences
• Reaching more customers
• Reduced complexity
Now let's take a deeper dive.
The Physical Store Experience
→ A study conducted by Google shows that 61% of consumers would rather buy products from a brand that also has a physical location.

→ Brick-and-mortar stores offer customers the opportunity to easily talk to a sales rep, view products in person, and try on clothes/perfumes/beauty products for real.

→ Purchases made in physical stores are acquired immediately, instead of online purchases that must be delivered before providing value to the customer.
Reaching more customers
→ The vast majority of shoppers (over 80%) rely on the internet for research prior to purchase, even if they eventually plan on picking it up themselves.
→ People are constantly — and subconsciously — shopping. Ads often stick with us, even if we don't make the online purchase there and then. Viewing a product online, even if briefly, increases brand recognition.
→ Even with e-commerce becoming widespread, now that people are back on the street, consumers have returned to their regular daily routines outdoors, moving around the physical markets nearby their jobs, and, of course, beginning to lean back to physical shopping.
Reduced complexity
→ Companies that migrate to online shopping will soon realize the complex logistics at work when it comes to delivering products to customers' homes. O2O provides all the benefits of e-commerce without having to traverse delivery logistics.
→ Eliminates reliance on third-party logistics (3PL) partners.
→ For companies that still want to offer delivery services, allowing customers to return products in-store increases the odds that customers will simply spend the money they're getting back on other products instead of taking it to your competitors.
What are the most used O2O strategies?
O2O can manifest in several different forms, and we've touched on a few of them already, but one of the most used and accurate strategy options is still what we call click-and-collect — which is available to brick-and-mortar retailers in two forms: BOPIS and BOPAC.
Don't be frightened by the long acronyms. These shorthands stand for relatively simple concepts. The first is Buy Online and Pick-up In Store (BOPIS), and the second is Buy Online and Pick-up At Curbside (BOPAC).
The former is what we traditionally think of when we think of merging online and offline shopping. You make your purchase online and simply walk into the store to pick up your product.
The latter is almost identical, except instead of having to navigate through the crowd to get to the cashier, you can simply wait in your car outside the store for someone to come and drop off your purchase.
While they don't have any real difference, BOPAC was a more desirable option for people trying to avoid crowds not only during the pandemic — when it became mandatory — but always (in the end, who likes spending time in a line?).
Regardless of the chosen option, they both beat the traditional physical shopping experience.
Should my business go brick-and-mortar?
While an O2O strategy is a no-brainer for physical stores looking to increase their awareness and sales, it can be a very different case for online companies looking to go offline. The answer is simple: maybe… if it makes sense for your business.
While setting up an online presence is relatively straightforward, setting up an offline presence is a much grander task. It really depends on the kind of products you sell, the size of your business, and the type of customers you have.
But don't dismiss brick-and-mortar stores altogether. Physical stores are still alive. Even with the pandemic-forced migration to digital, we see an increase in offline foot traffic. If you're interested in learning more about that, we have a comprehensive article on the topic.

Remember, no matter what your decision is, O2O can be the answer. MJV assisted both online and offline clients in accessing the greener pastures on the other side. You don't have to go alone. Go far, reach out to us. We are people transforming business.
---
Don't forget to check out our new release: The Multiverse of CPG & Retail Trend Report. There, you'll envision what's next in terms of innovation, technology, and the customer experience in several areas of consumer goods, as well as find out the answers to some of the biggest challenges in the sector.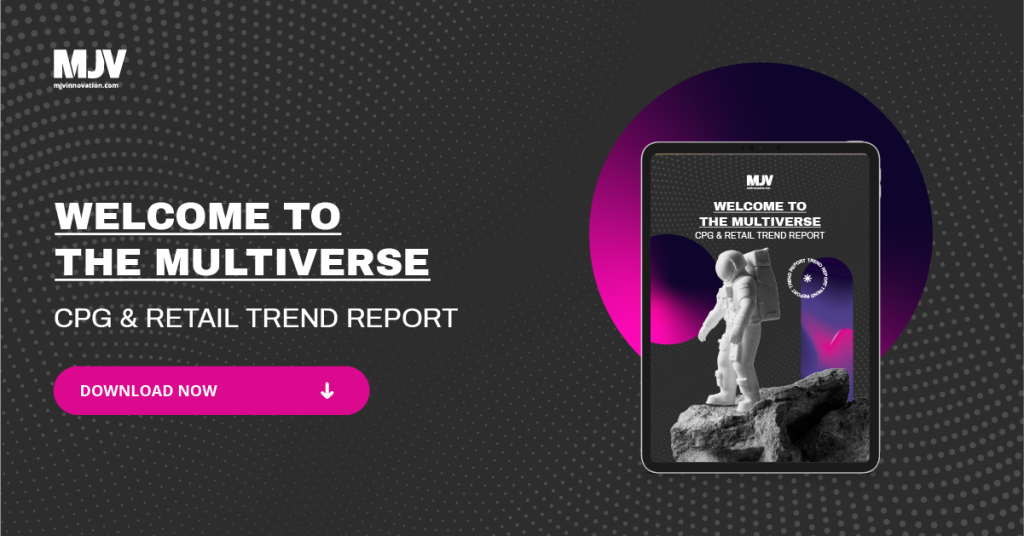 Back