14/12/2022 - By MJV Team
4 min read
7 Ways Brick-and-Mortar Stores Are Changing
Brick-and-Mortar stores are making a comeback! But not as we know them. Read on to see the adaptations physical stores have had to make to adjust to the ever-evolving digital retail world.
---
In the digital era, online sales have pulled ahead of in-store shopping for the first time, proving just how much the internet is changing the retail industry. As consumers move toward ever-evolving online shopping experiences, it's become critical for brick-and-mortar stores to reshape their business strategies for modern demands.
But there is still hope for the physical stores, with even the kings of e-commerce Amazon and eBay, proving that physical locations are a solid option for modern businesses.
In fact, the brick-and-mortar revolution is well underway; the comeback is on. With in-store experiences undergoing drastic shifts.
In this article, we'll break down what brick-and-mortar means in the digital age, highlighting how stores still fit into the modern business online-driven world of retail.
Or you can download the special infographic on this topic we've prepared for you here. As usual, there is no form to fill in.
What is a brick-and-mortar store?
The term "brick-and-mortar" describes retailers' physical spaces. Places where consumers can walk in and shop with all their senses instead of relying on online information.
Common examples include your favorite local shopping mall options: department stores, grocery stores, salons, fast food chains, and even the highly modern Apple stores.
You know the story, customers enter stores and interact with the products they are interested in buying. The end goal is to bring customers to the checkout to complete their purchases.
How they work now
The rise of e-commerce, and mobile commerce has increased the importance of having a multichannel business strategy for physical stores.
Brick-and-mortar stores now need to act as hubs within an omnichannel strategy, offering: in-store experiences such as events; local pickup; buy online; pick up in-store (BOPIS), and buy online or return in-store (BORIS). We'll revisit these topics later.
A mix of online and offline tactics is the necessary prescription to continue business growth.
Brick-and-mortar benefits
Reach customers who don't shop online: Believe it or not, not everyone uses the internet, and there are still customers alienated by organizations that are 100% e-commerce.
Plus, there are specific demographics that prefer to shop in person; think, for example, about; some older customers, those who are unsure of their size, and customers who are looking for something super specific. If an organization doesn't have a physical store, it would potentially miss out on the opportunities to serve such customers.
There is evidence to back this up: A recent report found that: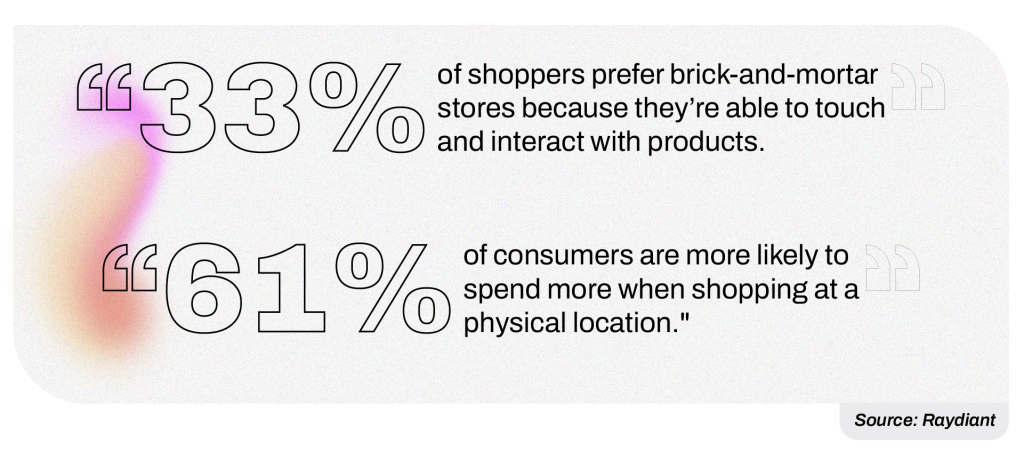 Other benefits include:
• Individuality: Consumers are allowed to peruse and test products in person;

• That special feeling: Shoppers get that instant gratification;

• Staff: Customers interact with employees, building relationships with customers;

• Visuals: Offers sales opportunities via in-store displays and enticing ambiance.

• Foot traffic: Spontaneous traffic that can attract new customers to your business.

• Multiple payment methods: Online stores are limited to only debit and credit card payments. An offline local business typically uses a POS system that accepts cash, checks, and credit and debit cards.
Brick-and-mortar vs. e-commerce
There are a few things that differentiate brick-and-mortar stores from e-commerce platforms; some of them are kind of obvious but worth clarifying.
E-commerce platforms don't have a physical location where customers can see the products. There are also brick-and-mortar stores that sell their products online (brick-and-click), but traditional brick-and-mortar stores only sell products in physical locations during working hours.
With e-commerce platforms, customers can shop at any time but will, of course, have to wait for their products to be delivered. Also, customers can't see, smell, touch, or compare products on e-commerce sites.
Many customers still prefer to shop in brick-and-mortar stores to enjoy the "complete shopping experience". Many others do their research online but do the purchasing in physical locations. It's about seeing the products for themselves and taking them home to enjoy as soon as possible.
The rise of e-commerce hasn't outdated brick-and-mortar but has highlighted how vital both experiences are for customers. Having a brick-and-mortar store to complement an e-commerce strategy targets online and offline shoppers.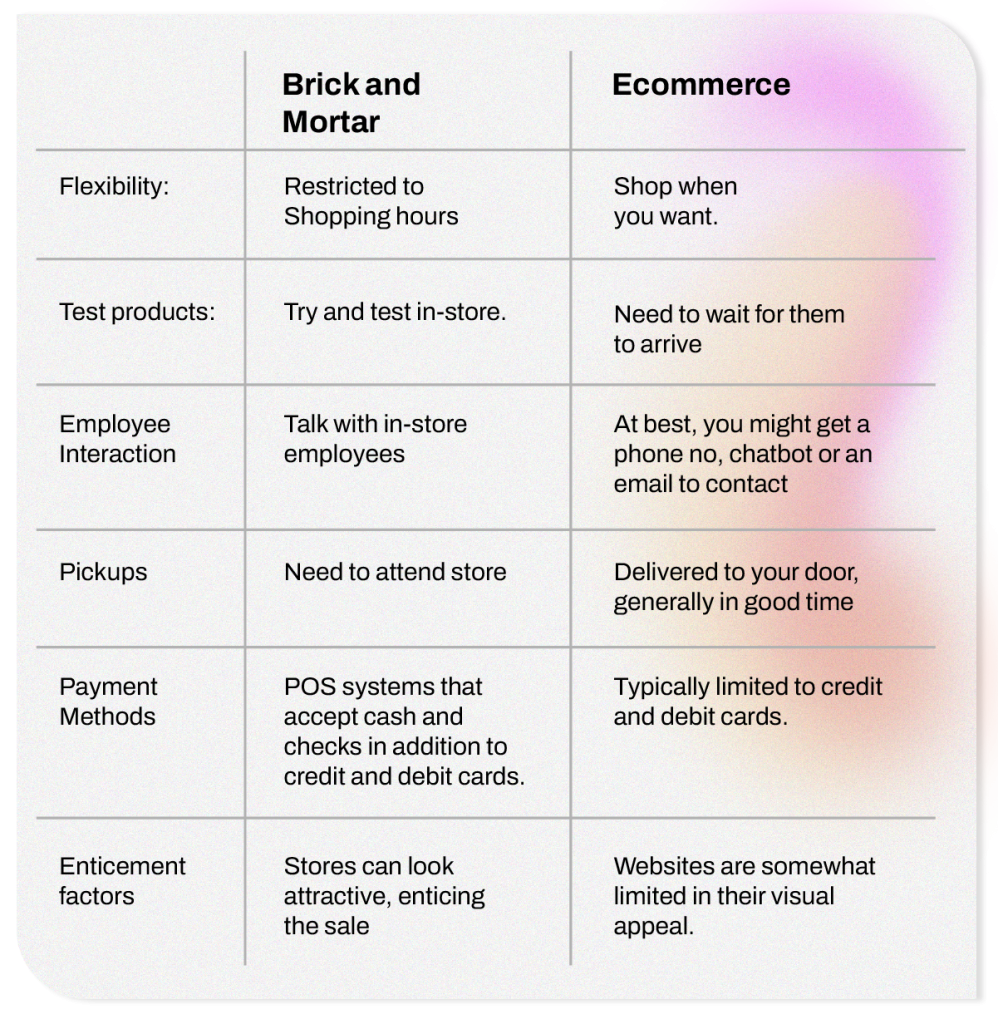 Do we still need Brick-and-Mortar stores?
When COVID-19 was at its peak, there was widespread speculation that the increase in e-commerce activity would forever change the retail landscape, eliminating the need for physical stores. But today, according to research by the U.S. Census Bureau, e-commerce sales are leveling off at around 21% of core retail sales, down from nearly 23% in 2020 at the height of the pandemic.
Furthermore, Coresight Research informs us that in the first five months of 2022, retailers have opened more than 4,200 new physical stores.
All of the above clearly indicates that brick-and-mortar stores are here to stay. The reason? Because they do so much more than just serve as a place to shop.
Physical stores are here to stay
As we look to the future of retail, brick-and-mortar is clearly an essential part of the landscape, something that is here to stay as they:
• Enable consumers to encounter new brands, engage with ambassadors and product specialists, and secure merchandise immediately.

• Support omnichannel shopping experience for a retailer serving multiple purposes and business goals.

• Offer new experiences and services to communities, further supporting their infrastructure.

• Entertain, engage and inspire.
At the end of the day, no matter how much technology has taken over our lives, we will always crave human contact.
7 Ways Brick-and-Mortar is Changing
Now that you're aware of how some retail trends influence brick-and-mortar, download our infographic and take a look at 7 practical examples of how physical stores are changing!
What is the Future of Brick-and-Mortar Stores?
Top retailers are already adopting innovations like the ones we just touched upon to help customers find in-store products while providing all the best possible information to digital smartphone displays to keep customers up-to-date on in-store product features.
Retailers who want to continue to engage customers will continue to embrace new technology to enhance the in-store experience. It's all about providing customers with a great atmosphere, delivering excellent customer service, offering a personalized experience, and getting customers connected to the right product or service while providing a relatively frictionless experience.
Brick-and-mortar stores aren't the traditional vehicle that they used to be. How they interact with modern-day consumers is everything. This means making consumer digital screens come to life inside the stores, taking personalized shopping experiences to a new level.
So what's the difference between brick-and-mortar businesses that thrive and those that fall by the wayside? Well, for us at MJV, it's the speed of adaptation. The key is to be on top of the ever-changing consumer behavior. If you feel like your company is not up to speed in this department, MJV can be of service; feel free to reach out to one of our consultants.
---
Don't forget to check out our new release: The Multiverse of CPG & Retail Trend Report. There, you'll envision what's next in terms of innovation, technology, and the customer experience in several areas of consumer goods, as well as find out the answers to some of the biggest challenges in the sector.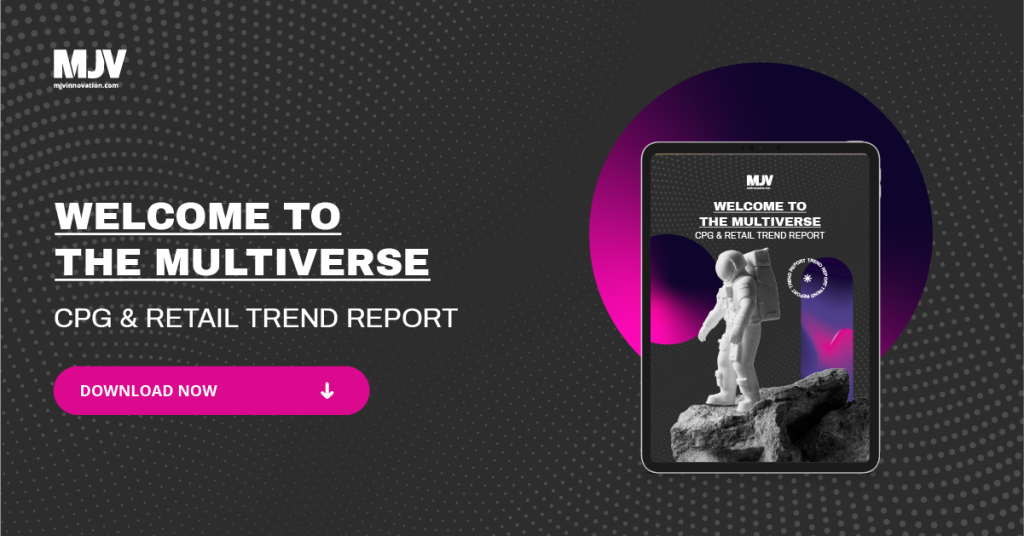 Back